Antenna Sharing System for 4 radios and 8 antenna ports. SO-239 connectors. Indoor. Requires 12 V DC.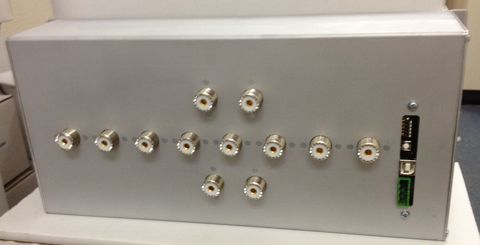 You can share up to 8 different antennas with 4 different radios. Perfect for Multi-Single, Multi-2, and some small Multi-Multi contest operations. For DXers or collectors with 3 or more operating positions, you can now connect any of 8 antennas to up to 4 of your stations without rewiring or moving coax cables. The system continues expanding our 4-wire control infrastructure and will integrate with existing 4-wire systems that include our BandMaster III band decoders and the FilterMax IVT (W3Nband pass filter systems.
There are two new options for controllers:
1) Manual and / or software control
2) As above, with the addition of a built-in band decoder
The band decoder that is part of the Integrated Controller supports Icom, Kenwood, Yaesu, and Elecraft K3 radios. Interface cables for your radios are available for $40 each or less. The Complete system will consist of one 4x8-Pak relay box and any assortment of up to 4 controllers. The manual controller will integrate with BandMaster decoders you may already have in your system.
Specifications:
3 kW at 3:1 VSWR.
Low VSWR up to 55 MHz.
All unused inputs are grounded.
Lightning protection at both ends of the control cable, and spark gaps as an added level of protection. (You should still use additional prudent lightning protection for your antennas and radios).
Weather proof relay box.
Click here to see the available controller options.
EightPak 4x8 Pak Indoor SO-239 connectors (no controllers)
Brand: Hamation
Product Code: 4x8Pak Indoor-SO
Availability: In Stock
Related Products
Tags: antenna selector, 4x8 pak, 4x8pak, 4x8 pack, antenna controller, 4x8 pac, 4x8pack, 4x8pac, four by eightpak, four by eight pack, antenna switch, 4x8Pak Indoor-SO, 4x8PAK INDOOR-SO, 4x8pak indoor-so