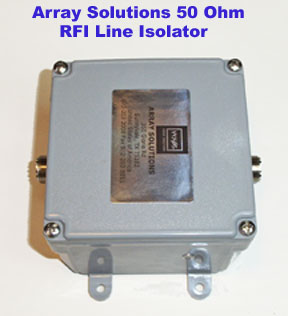 These current devices are based on the W1JR Baluns above. They are used to stop RFI on the outside of a coaxial cable shield from entering a radio shack. They also are use to isolate vertical feed points to eliminate coaxial cable RF pickup.
Key Benefits:
Feedline is decoupled from a vertical antenna radial system
Rejects feedline radiation into sensitive areas of the radio room
Perfect for raised radial systems to prevent feedline from coupling to the radials
Features:
50 Ω unbalanced to 50 Ω unbalanced current isolator
Rated for 5 kW CW and 10 kW SSB, these isolators offer the same quality as our well known W1JR baluns.
VSWR 1:1 for 50 ohm devices
Teflon SO-239 on either side of the box, also available in N-type and 7/16DIN
4" x 4" x 2" NEMA 4X Sealed boxes
AS-50-L1N - 50 Ohms RFI Line Isolator unun, N-type connectors, 5 kW CW / 10 kW SSB, 1.8 - 30 MHz
Brand: Array Solutions
Product Code: AS-50-L1N
Availability:

Pre-Order. Call.
Tags: baluns, rf choke, rf-choke, rfchoke, rfc, 50 ohm, 50ohms, 50ohm, 50 ohms, rfi isolator, line isolator, RF isolator, as-50-l1, transmission line decoupler, AS-50-L1 , as-50-l1