Antenna Tuner disconnection systems for surge and lightning protection. Fed through coaxial cable with a Bias "Tee" or through separate cabling.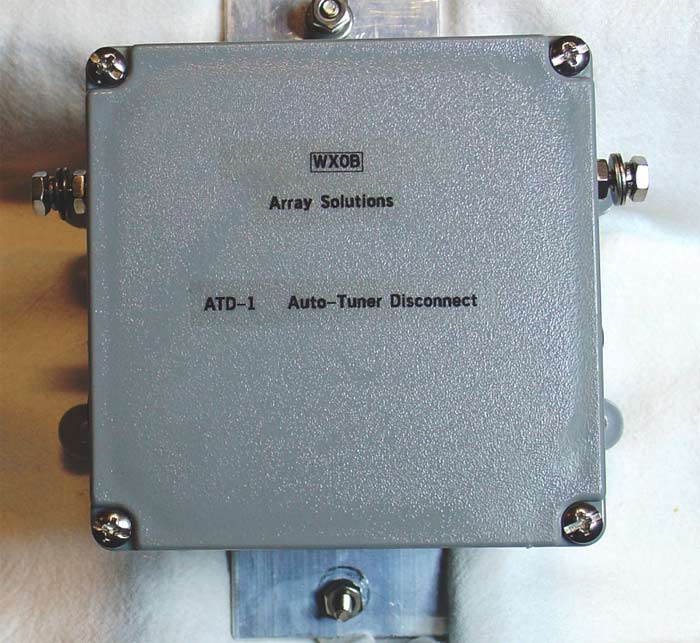 Protect Your Remote Auto-Tuner with the Array Solutions Auto-Tuner Disconnect
You've spent a lot of money on that remote auto-tuner. When bad weather threatens, nothing protects your auto-tuner better than a hard ground right at the auto-tuner output. But how do you do this unless you go outside and disconnect and ground the auto-tuner output when it is not in use? The answer is the Array Solutions Vertical Antenna & Auto-Tuner Disconnect, which automatically grounds the antenna feedpoint and auto-tuner output when the DC control voltage to the unit is disconnected. The DC control voltage may be supplied via the Array Solutions BIAS-T MASTER, or through a separate DC connection. The DPDT relay used in the ATD-1 has 3.1 kV of gap and arc capability, which means that the ATD-1 can be used with full legal limit feeding antennas with an SWR of 60:1. So there is no need to worry about ATD-1 arc-over into the worst loads presented to your remote auto-tuner. The Array Solutions ATD-1 is perfect for protecting your CG, SCG, ICOM, and other remote auto-tuners.
Frequency coverage: DC-50 MHz

Input : Single Wire

Input power: 5 kW CW/SSB/RTTY

Power supply: Nominal DC + 12 V (11.5-14 V DC)

Relay current: 125 mA

Plastic Box approx 4" x 4" X 2.5" (101 mm x 101 mm x 63.5 mm)

20+ kV Rated
Can be used with a Bias Tee to avoid additional cabling by using the coaxial cable to send the 12 V DC to the ATD-1.
Two units needed, one for DC injection and one for DC extraction.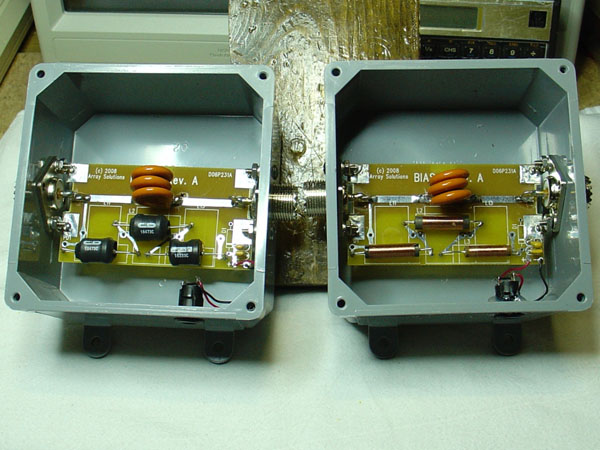 ATD-1 used with bias Tees
Click here to see the Bias-T master
ATD-1 Auto Tuner Disconnect Protection for lightning and RF surges.
Tags: tuner protection, tuner disconnect, ATD-1, atd-1