We are proud to be the North American Official Dealer of OptiBeam Antenna Technologies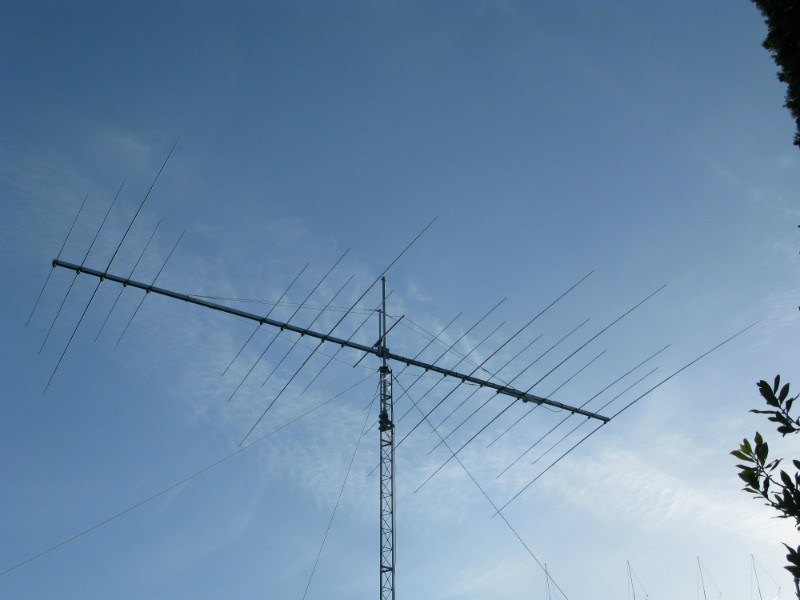 OptiBeam's flagship: The OB21-3. Twenty-one elements tribander for 10/15/20 m.
Links:
If you want to see the guidelines to estimate prices and shipping of a given OptiBeam antenna model click here
To go to the OptiBeam webpage: optibeam.de
To see how an antenna becomes an OptiBeam click here
What is an OptiBeam?
An Optibeam is.....................Antenna-Technology
OptiBeam-Multiband-Antennas are optimized by use of modern computer simulation tools and checked in the field. 
Critical tests in practice including final optimizations guarantee highest electrical and mechanical performance.
An Optibeam is...............Technical Qualities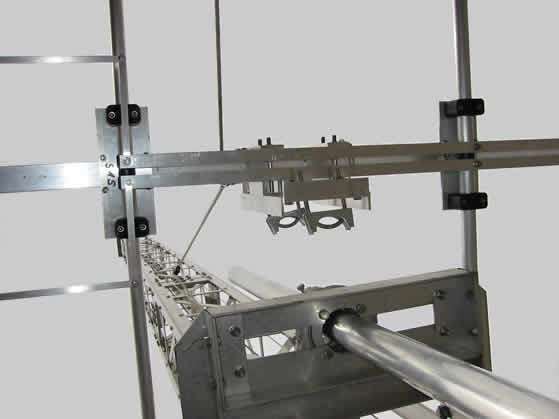 OptiBeam-Multiband-Antennas are distinguished  by the following technical qualities:
    1. Use of the new "direct coupled feed system" * 
    2. Each band has its own, fully resonant driven element 
    3. Special order in the placement of the elements 
    4. Use of full-size elements only. 
* protected by patent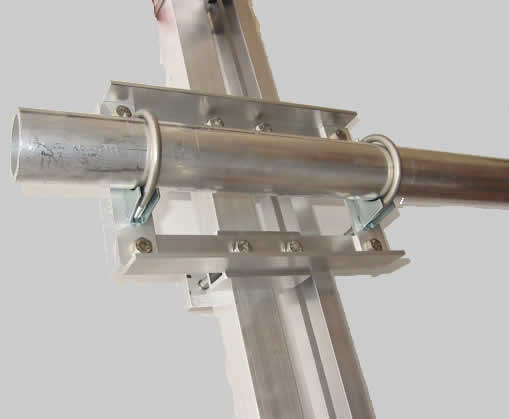 An Optibeam is:...........Electrical Properties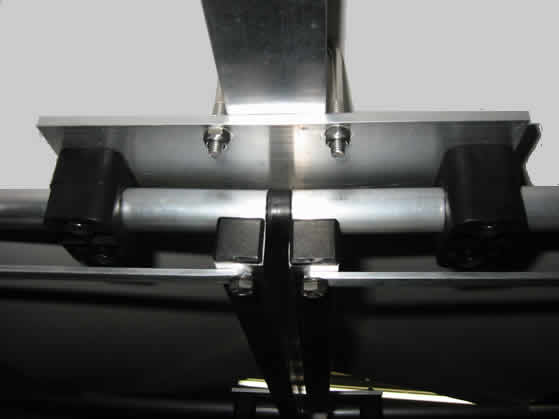 An Optibeam is:...........Mechaniocal Quality Throughout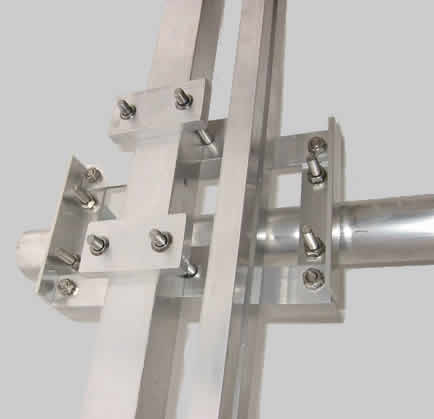 Optimal performance is achieved by the following electrical properties:
Highest efficiency

Optimum band coverage which means nearly constant gain, and pattern and low VSWR.

Direct 50 Ohms at the feedpoint with all driven elements fed using a single feedline.

Constancy of the characteristics under all weather-conditions

High power handling capable

Choice of high power Baluns

Real RF Insulators large RF conductors, excellent machined parts which allow perfect electrical contact over time.
OptiBeam-Multiband-Antennas are furthermore distinguish by the following mechanical qualities:
Specially configured, stable and German machined element brackets with real RF insulators

Slender but strong and stable square-booms

Perfectly fitting element sections and the use of stainless steel hardware

Clamps of highest quality, value,  and machining excellence.
An Optibeam is................Physical Properties
By these technical qualities special physical properties are achieved:
High stability of the entire system 

Elements perfectly aligned and secured against twisting

Minimal element droop

They just plain look great!  Even your neighbor may like it!
OptiBeam's Multiband-Antennas avoid the disadvantages of other common multi-band antenna systems:
Trap antennas have losses, noticeable reduced band coverage, reduction of efficiency over the years and limited power-

handling capabilities.

Log-Periodic antennas: Acceptable gain is only achieved on longer booms and unwanted harmonics are radiated.

Quads and other wire antennas tend to have losses because of their thin wire elements and they don't show an optimum band 

coverage. 

Antennas with "open" feed-systems don't show full band coverage concerning constant gain, unchanging radiation-pattern and 

low SWR and furthermore don't have optimum efficiency. They can also be very difficult to tune on all bands.

Gain figures: Gain figures for OptiBeam Multiband Antennas are by means of NEC code software the calculated values have 

been verified and therefore don't represent exaggeration at all. There is no need to do so.

Because of the design, the low loss feed system and the attention to detail, gain figures quoted are realized equal to 

that of monobanders of equivalent size.
Assembly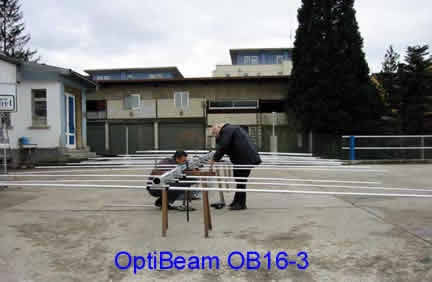 The assembly of OptiBeam multi-band antennas is done easily and quickly due to specially pre-worked and pre-assembled parts.
OptiBeam multi-band antennas are reliable, strong, and will put a smile on the face of the most demanding ham.  
Get the best antenna for your money!
  !!!  Q u a l i t y   m a d e   i n    G e r m a n y  !!!
K2YU's Optibeam Antenna System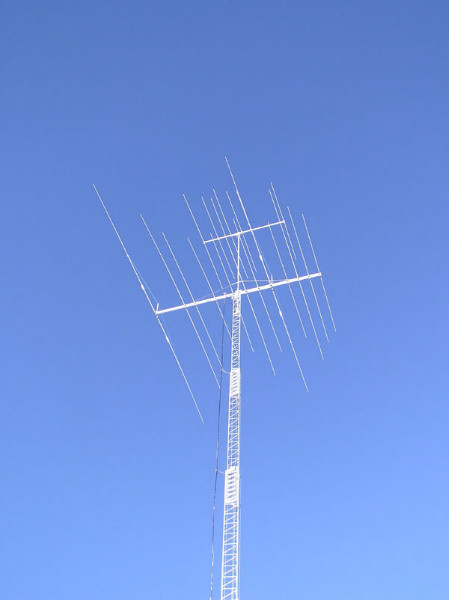 Including in one antenna 80, 40, and 30m or even a combination 40 +30m Antennas!

Absolutely the highest performance development "Hidden Sleeve" allows up to 6 bands on one antenna and one feedline

Below is the latest example of the hidden sleeve antennas. The OB13-6  40/20/17/15/12/10 meters on one boom and one coaxial feedline

The OB11-5 and the OB16-5 also take advantage of this new development. All of the elements are perfectly placed on the boom.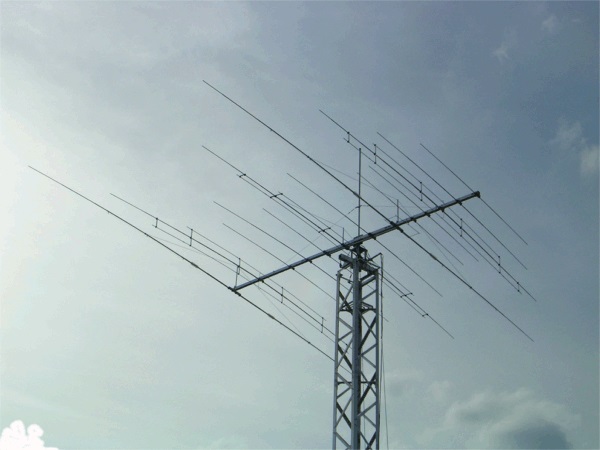 Larry, K1UO on his OB16-3: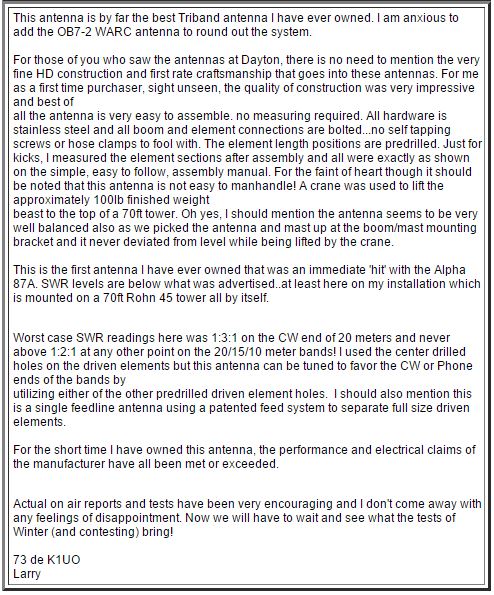 Dave, WB1S on his OB12-6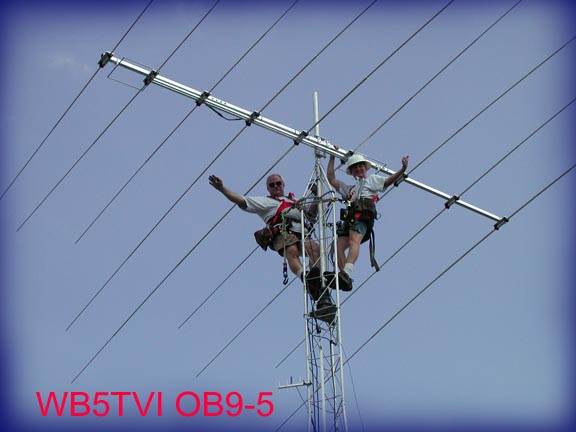 N5YA (left) and WX0B finishing the OB9-5 installation.
OPTIBEAM ANTENNAS
Product Code: Optibeam
Availability: In Stock
Tags: hf antenna, mutiband antennas, yagi antenna, yagi, monoband antennas, yagi-uda, hf antennas, monobander, monoband antenna, hf beam, hf beams, multibander, opti_beam, opti-beam, optibeam, multiband antenna, FR1640.1 Fritzel FD-4