The Power AIM series has been discontinued.
We have a unit available for rental.
The rental includes:
Calibrated Power AIM 150.
All accessories included.
Cost is $250. the first week, and $200 per subsequent weeks.
A credit card is required for deposit.
The rental will be the only charge unless there is loss or damage.
Features include:
Greater immunity to interference (up to 150V peak).
Higher output drive signal.
Multiple input ranges for improved accuracy.
Temperature compensation.
Measurement range up to 150MHz.
Better performance and lower cost than the PowerAIM-120.
The new PowerAIM-150 was introduced at the National Association of Broadcasters (NAB) Show in Las Vegas in April, 2017.
The predecessor of the PowerAIM-150, the PowerAIM-120, was very well received at the NAB in 2008, winning two awards at that show:

Download link for PA150 @ bottom of page.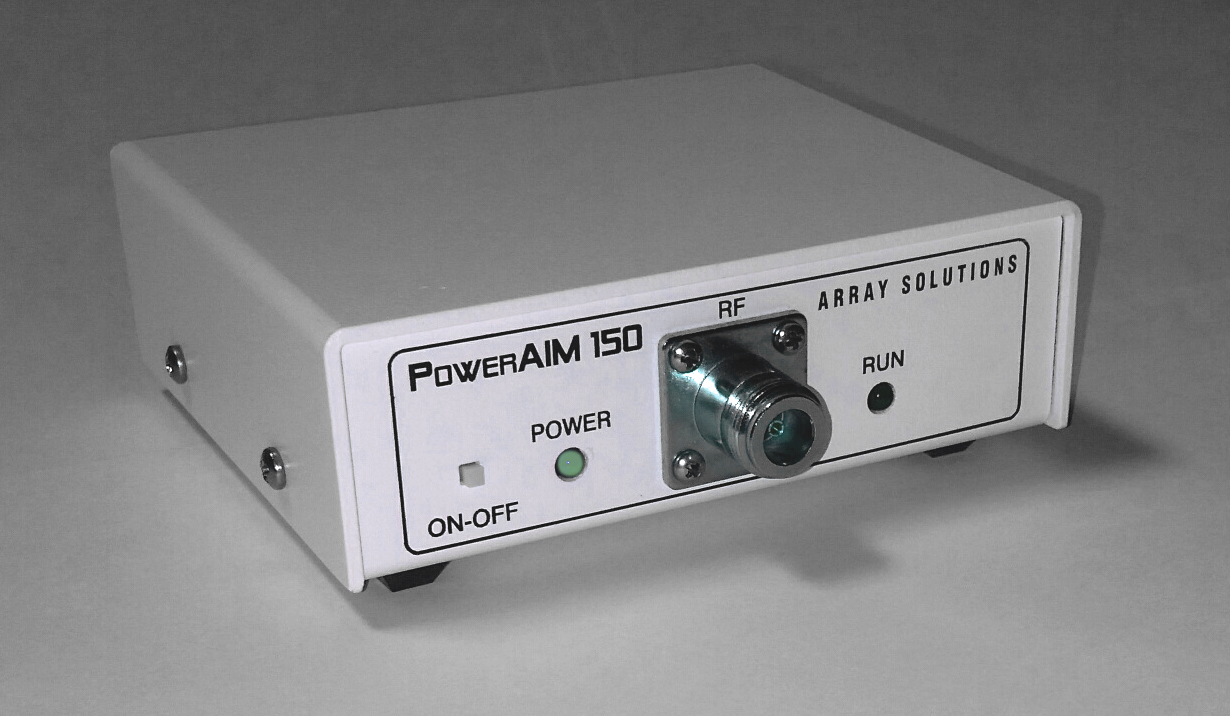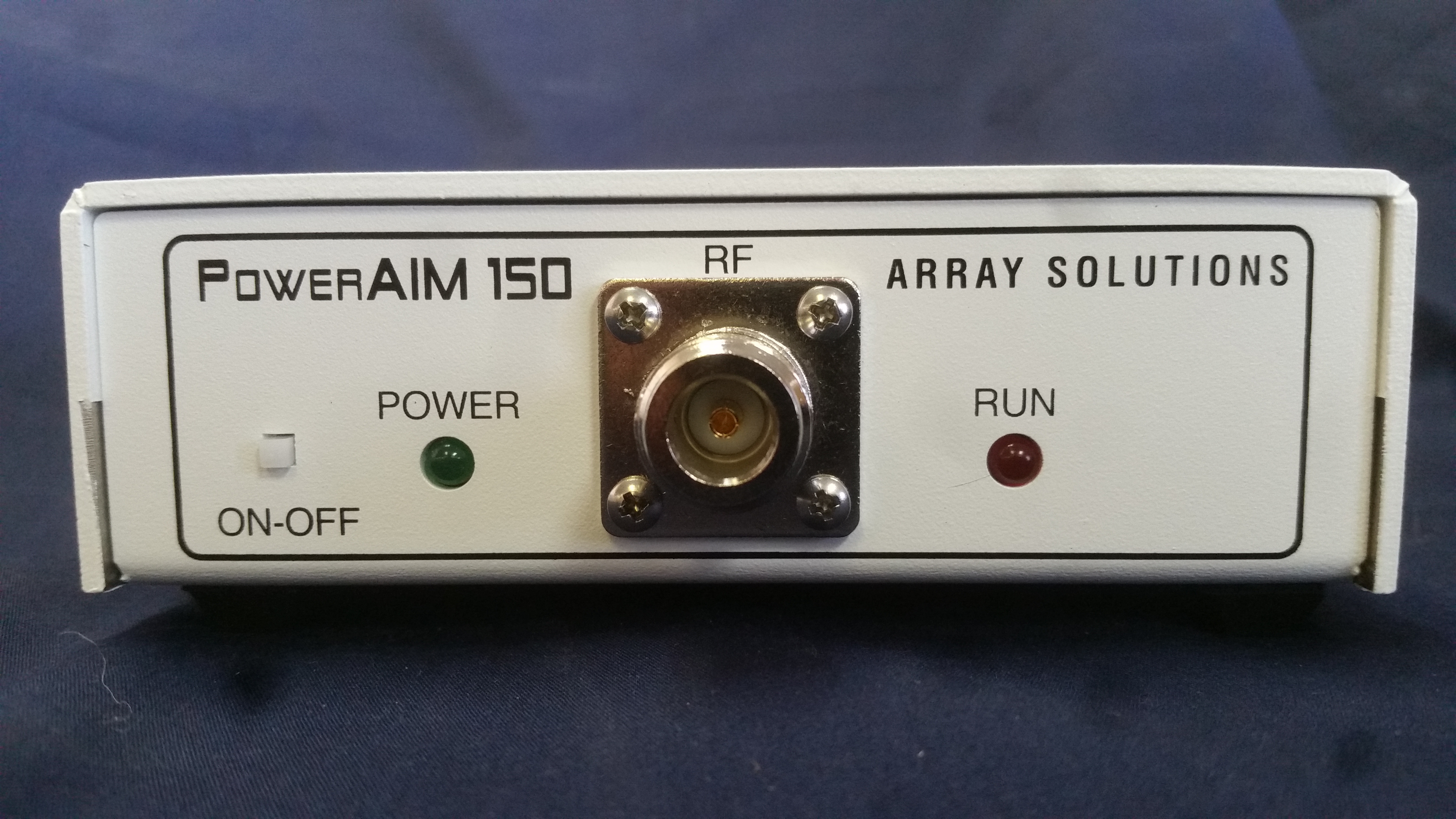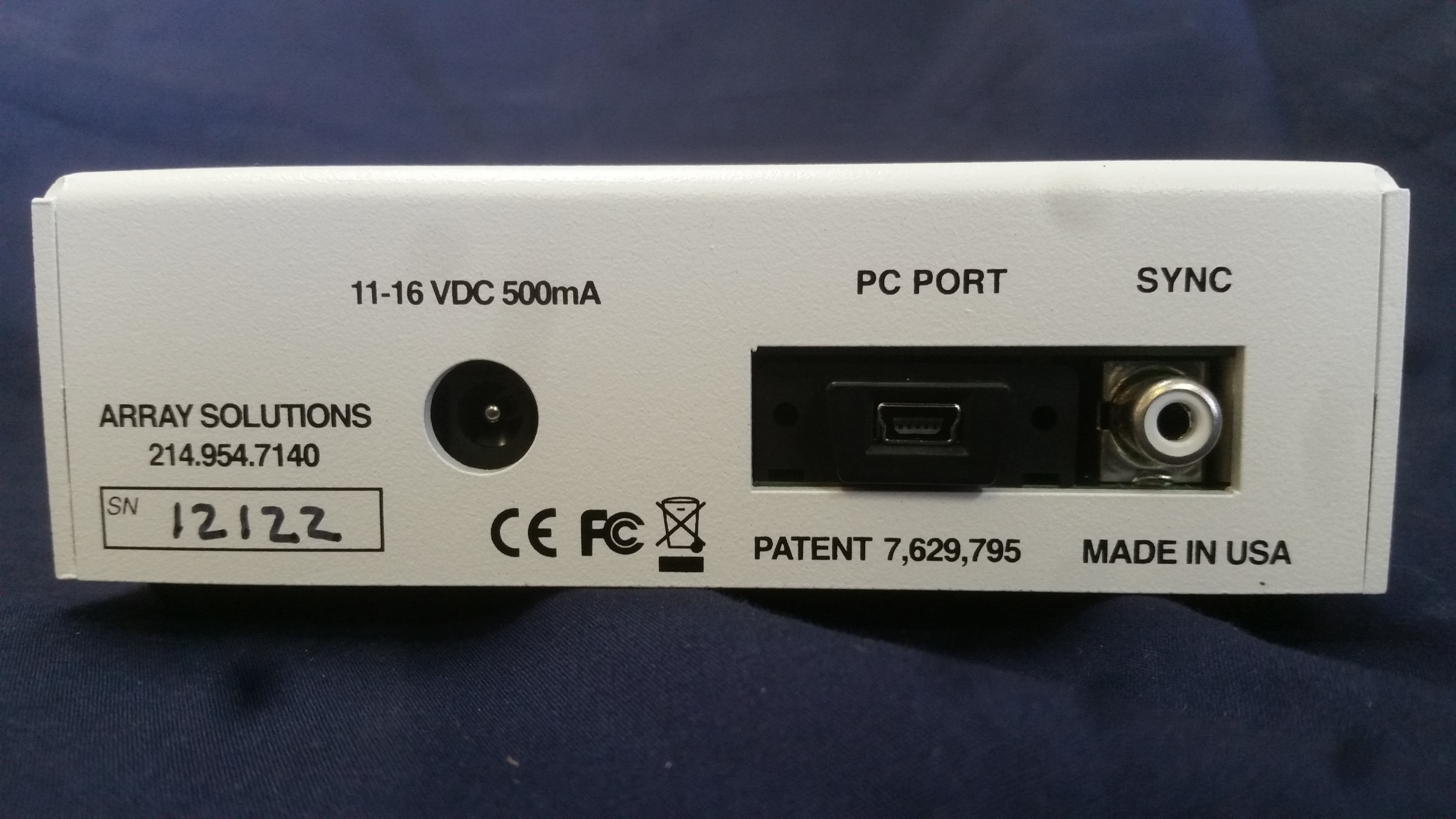 Front and Rear views of the PowerAIM 150

The PowerAIM 150 Vector Impedance Analyzer with patented, unique technology offers the broadcast engineer the full capabilities of a single port network analyzer in a small, lightweight, software-driven instrument that is easy to carry on airlines and in the field. It is very simple to set up and use. The Power AIM 150 is accurate even at tens of thousands of ohms of impedance. All impedance parameters are measured and calculated. The software for the PowerAIM 150 is loaded on a laptop computer or a Windows tablet for more portability, which is coupled to the instrument via a USB cable.
The PowerAIM is particularly beneficial to broadcast engineers involved in the adjustment and final commissioning of AM HD radio transmission systems. The instrument is calibrated in a similar manner to a network analyzer - utilizing an open, short and 50-ohm or other resistance load. The start and stop frequencies have to be specified to define the frequency scan range.
The PowerAim 150 includes:
PowerAim 150

Pro Case

SLA 5 aH Battery and Charger

Battery power cord (attached to battery)

USB cable (A and mini B)

Standard Precision Load Set (type-N) Optional sets are available in other types

Ship carton is 18 X 14 X 6 inches Weight 13 lbs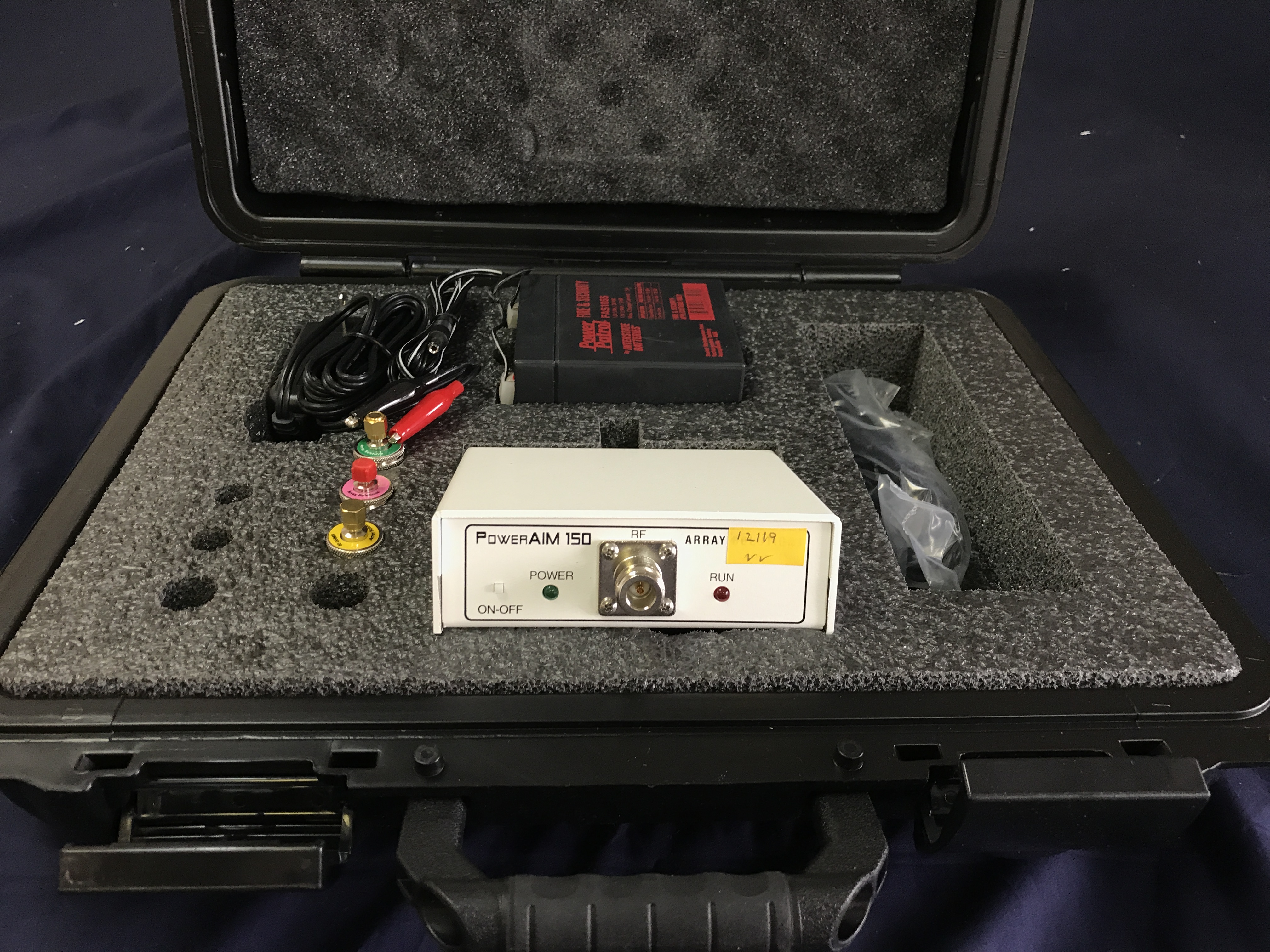 Scans can be overlaid on top of each other and also re-cycled to make adjustments in real time. The instrument can be NIST calibrated in the field or in house, so no need to send to expensive labs every year. Measurements can be made at the input port or at the end of a transmission line section or at the end of test leads. The leads or transmission lines can be calibrated out quickly. Besides antennas, any RF component can be measured over any frequency range of the instrument. As one example, it can then be used to scan the input impedance of an antenna tuning unit (ATU). The swept impedance data can be saved in an EXCEL spreadsheet or as a scan file to be recalled later or used as a image for documentation. It is possible to specify the type and length of transmission line between the transmitter output and the antenna tuning unit input plus the phase shift of the transmitter output network in order to display the impedance sweep that would appear at the RF final output of the transmitter for the purposes of optimization of the transmission system for IBOC operation.
The swept impedance data can be displayed in a linear data plot showing both rectangular and polar impedance values or in single or dual Smith Chart plots in which case the ATU input sweep could be displayed in one chart, and the transmitter RF final output impedance could be displayed in the second chart. The corresponding VSWR and Return Loss plots can also be displayed. the Power AIM software includes specific tools for IBOC set up, including rotational smith chart, automatic SWR ratio calculator, and more. Markers are easy to apply and remove, and display on the dynamic Smith Charts as well.
The Zo impedance can be anything including complex impedances (R + jX) to mimic what the PA section of a transmitter sees. Smith charts are normalized to any impedance including complex impedance. It has a powerful custom calibration function that can completely calibrate out a complex filter or other RF components. The PowerAIM 150 can also be used as an impedance bridge. It incorporates a tone generator with adjustable loudness such that the target setting for a given network branch, for instance, can be pre-defined after which component adjustments can be made until the tone is suppressed; hence yielding the correct reactance.

The PowerAIM 150 includes several functions, such as distance to fault, stub macro tool, crystal measurements, and other functions used by RF engineers. The PowerAIM 150 kit includes the portable battery-powered instrument; open, short and 50-ohm calibration loads; a rechargeable SLA (FAA approved) battery with recharger. A rugged carrying case is included to hold it all.
The patented hardware and software DSP filters enable the PowerAIM 150 to measure the impedance of an antenna with as much as 150 volts peak or 106 volts RMS externally generated RF voltage appearing at the input to the analyzer on the same frequency, even though the instrument is producing only a few mW of RF itself. The instrument is self-protected against a higher RF input overload. This feature makes it possible to use this instrument to conduct antenna system impedance sweeps in the presence of incoming co-channel or adjacent channel nighttime sky wave radiation. There are techniques that can be applied to successfully measure antennas with more the 50 volts of RF on them by using a filter or an attenuator.

New features in the PowerAIM150 include:
Greater immunity to interference.

Higher output drive signal.

Multiple input ranges for improved accuracy.

Temperature compensation.

Measurement range up to 150MHz.

Better performance and lower cost than the PowerAIM-120.
The parameters that are calculated include:
SWR referenced to any impedance

Resistance and reactance at the cable input

Resistance and reactance at the antenna terminals

Resistance and reactance of discrete components

Return loss

Reflection coefficient

Cable length

Cable impedance

Cable loss

Distance to fault (open or short)

Marker sets to collect data at specific frequencies

Two Smith chart displays

Band scan for interfering signals

Quartz crystal parameters

The scan data can be saved to disk or printed to compare before and after results. It can also be imported into spreadsheet programs for further analysis.
This link will automatically download a ZIP file.
Power AIM 150 - RENTAL only
Brand: Array Solutions
Product Code: Power AIM-150 RENTAL
Availability:

Call for availability
Tags: power aim-150, power aim 150, poweraim150, poweraim 150, impedance analyzer, broadcast antenna analyzer, professional impedance analyzer, aim-150, aim150, aim 150, AIM-150, AIM150, AIM 150