Two element Vertical Array Controller for 40 m band. In phase the pattern is bi-directional perpendicular (broadside) to the line between the two antennas. 90 degrees out of phase the pattern will be along the line between the two antennas towards the element lagging in phase (endfire).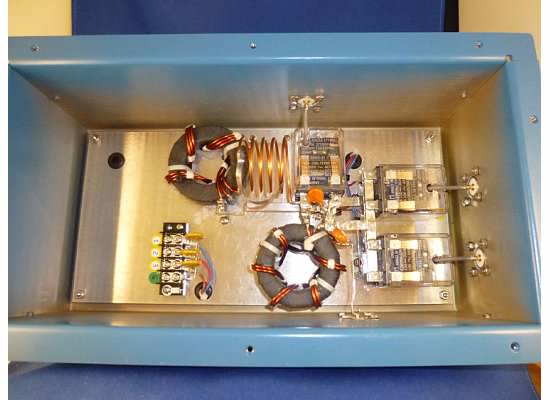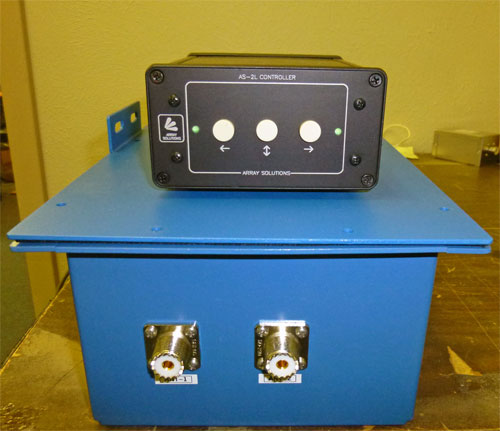 The pictures above show the phasing control box and the control switch. The phasing control box mounts at the physical center of the array. It feeds the two elements of the an 1/4 WL spaced array with two 90 degree feed lines, which can be supplied by user or by Array Solutions.
Spaced 1/4 WL apart this system will produce a Cardioid pattern in two directions and a broadside pattern when both verticals are fed in phase. It utilizes the the modified Hybrid method of phasing with an L network to match to the 50 ohm feedline perfectly.
The controller outputs are single 50 ohm cables to each element. The controller phasing box is an Aluminum box with a rubber gasket to seal it from the weather.
Hot switch protection built in, as well as our 4 wire network to control the array remotely on you station PC. Free software application.
Click here to download the manual for the AS-2L-XX

Click aquí para descargar el manual del AS-2L-XX en espanol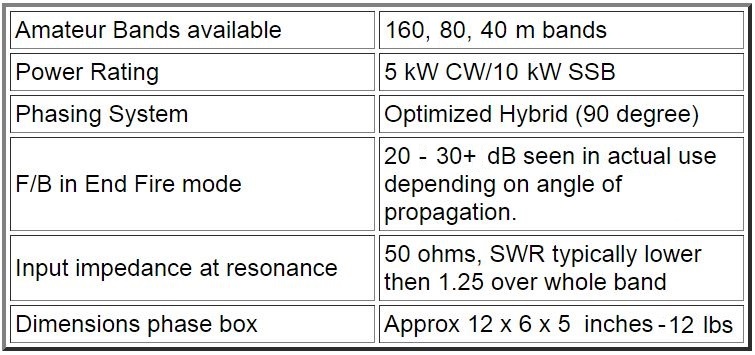 AS-2L-40 - Two Element Array System with controller 40 m
Related Products
Tags: AS-2L-160, Two Element Array, two-vertical antenna, AS-2L-80, AS-2L-40, 2-vertical antenna, 2 vertical antenna, two element array controller, two vertical array, Two antenna array controller, as-2l-40