W8AV Triangle Array System - Includes Controller Switch
This System, is based on a design by Goose, W8AV a professional broadcast engineer. Therefore we call it the W8AV Triangle Array System.  Basically it will deliver the proper phase and power magnitude to the three verticals arranged in a triangle.  It will provide steering of the array in three directions based on the selection of the control switch. For other control options please go to www.hamation.com and click on "Control Center"
The picture above shows the phasing control box and the control switch.  The phasing control box mounts at the physical center of the array and has three RF connectors to drive the three antennas, as well as an input RF connector for the feed line.  There is also two RF connectors for the phase delay line. 
The delay line can be custom made for your application based on the pattern you wish to achieve and on the physical spacing of the arrays.  For instance a 0.29 wavelength spacing as recommended by ON4UN's "Low Band DX-ing" book demonstrates a phasing of 90 degrees between the two "back" elements and the "forward" element.  This gives a pattern of tremendous front to rear ratio.  But he also demonstrates an optimized delay of 115 degrees which has a slightly better forward gain, and slightly worse front to rear ratio with a better rear upper lobe suppression.  The system can be set up for either method by the user.  Click Here for Plots.
There is an additional Relay and LC network so you can now switch from SSB to CW instantly with a flip of a toggle switch. No need to adjust your elements.
Amateur Bands available
160, 80 and 40 m, both CW and SSB setting
Power Rating
5 kW CCS 
Phasing System 
Power Splitter, and delay line - no dump load to waste power
F/B
20-30 dB seen in actual use depending on angle of propagation.
Input impedance at resonance
50 ohms nominal - With SSB and CW Relay and L networks so you can change from SSB to CW instantly
Dimensions phase box
Approx 7.5 x 7.5 X 3 inches (80 m box)
160 m box is approx 10 X 6.25 X 4 inches
Testing at our factory (See picture below). 
The relay phase box is attached to 3 dummy loads, an HP phase and magnitude meter and a Tektronix 2465 300 MHz Scope as below. A transceiver applies the power at the desired frequency.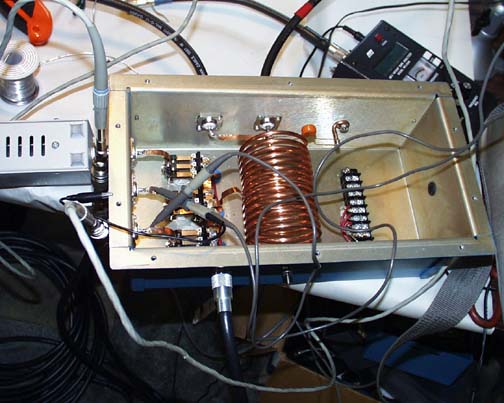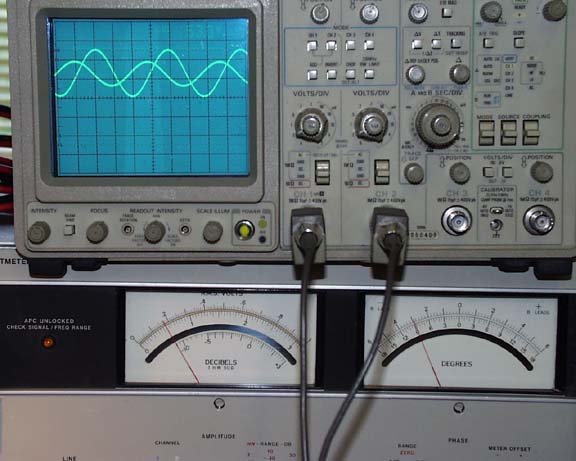 As seen in the above picture the magnitude of the lagging element is set to be twice that of the two leading elements. The HP phase magnitude instrument confirms the settings on the scope but with much more accuracy.  We are able to adjust the 90 degree phase shift to be precisely with these instruments.
W8AV Triangle Array System, 3 element array (CUSTOM ORDER, CALL FOR PRICE)
Related Products
Tags: Vertical antenna triangular Arra, Triangle Array Controller, W8AV, tri-array, 3-element array, 3 vertical antennas array, 3-vertical antennas array, 3 element array, triarray phasing, triangle array, phasing line, phasing cable, phasing cable 160m, phasing cable 80m, phasing cable 40m, TRIARRAY-CTRL, triarral-ctrl