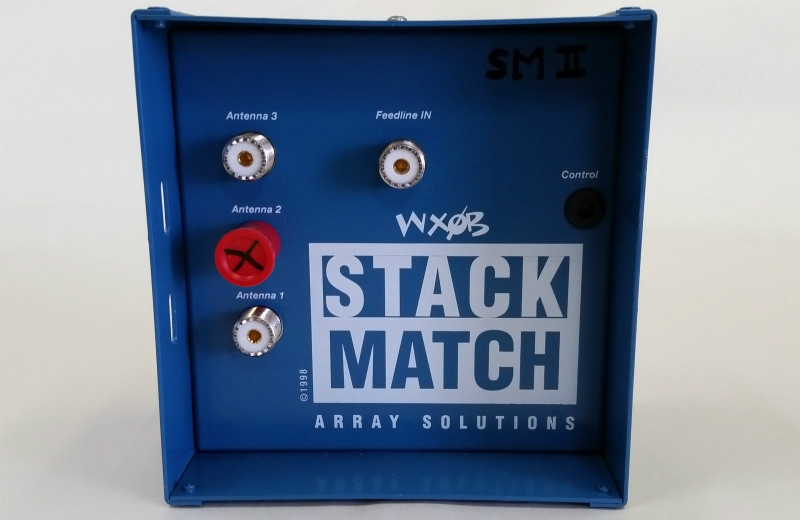 Stack of two Antennas Combining System. Allows any of the three combinations for upper/lower/both antennas, vertically shaping the radiation lobes and changing the radiation take-off angle to optimize the signals depending on the varying ionospheric propagation angles. 7 to 60 MHz. 3 kW. SO-239 connectors. Requires a controller fed with 12 V DC 1A.
Comparison of the three combinations of a stack of two five element Yagi-Uda antennas. The possible combinations are as follows:
-The two antennas at the same time (Black). Main lobe at 11.5 degree and deep null at 28 degrees above the horizon.
-The upper antenna alone (Blue). Main lobes at 10 and 31 degrees. Nulls at 21 and 45 degrees above the horizon.
-The lower antenna alone (Red). main lobe at 18 degrees. Null at 45 degrees above the horizon.
The use of the StackMatch to combine the antennas in phase delivers more gain, up 3 dB in the case of two antennas compared to a single one. But even more important is the coverage of the angles with the resultant lobes obtained with three different combinations. These different lobe angles will cover the variation of the incoming waves angles which depend on the varying ionospheric propagation conditions.
Low angle lobes are good for long-haul contacts specially at dusk and down while high angle lobes are better near local noon along the propagation path.
For this and more information on the StackMatch products
click here
StackMatch II - For two antennas, 3 kW, N connectors, requires a controller
Related Products
Tags: stack match, sm, sm2 sm-2, smii, stackmatchii, stack match 2, stackmatch+, stackmatch2, sm controller, sm-ii, stackmatch pushbutton, stackmatch ii, stackmatch-2, stackmatch-ii, sackmatch push button controller, stackmatch controller, stak match, mini-stackmatch, mini sm2, mini stack match, mini sm, mini-sm-2, ministackmatch, mini-sm, stackmatch, minism2