These current devices are based on the W1JR Baluns above. They are used connect 75 ohm coaxial cables, like CATV's into 50 ohm systems. It can be used the other way: Insert a 50 ohm device or coaxial cable into a 75 ohm system.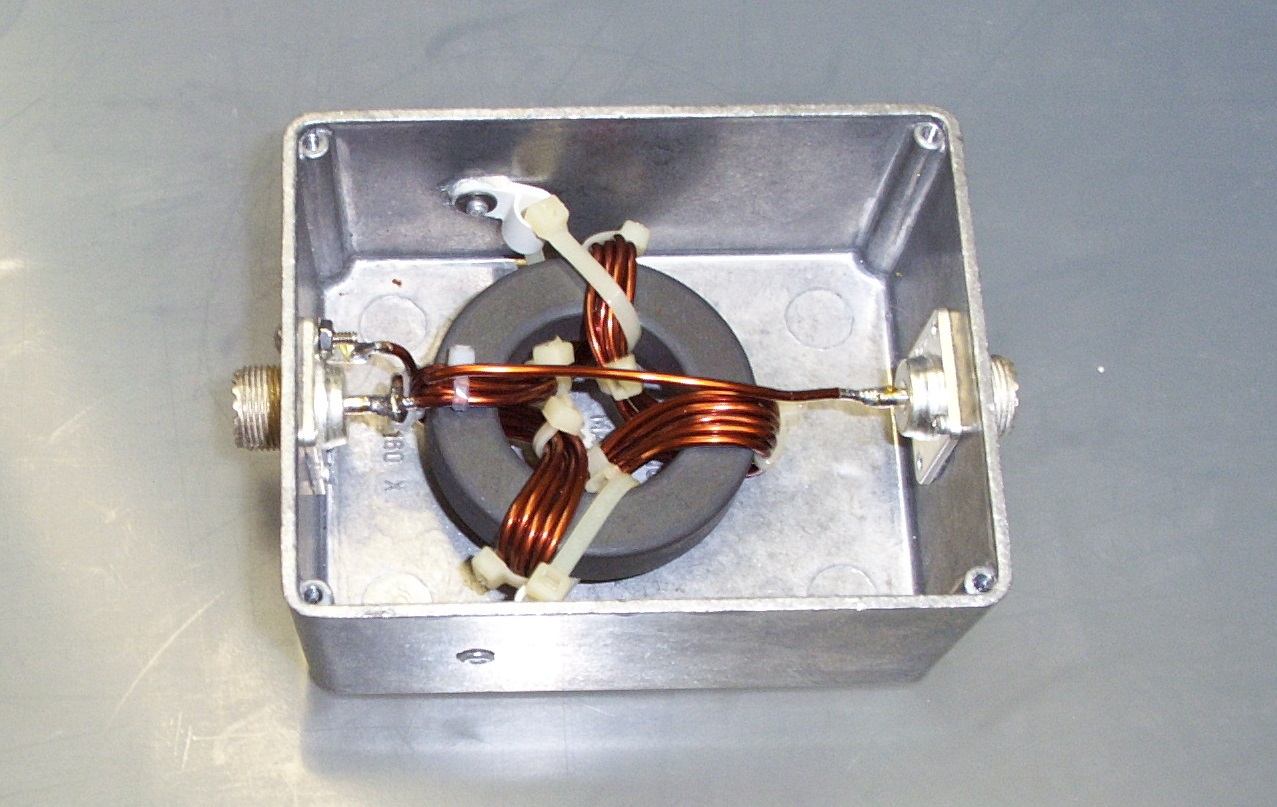 The AS-50:75-1 shown here with SO-239 connectors
Key Benefits:
Use of low loss 75 ohm CATV cable in 50 ohm systems
Two can be used at both ends of a CATV low loss 75 ohm coaxial cable to step down to 50 ohm impedance or two can be used to insert a 50 ohm coaxial line or device in a 75 ohm transmission line system.
Features:
50 Ω unbalanced to 75 Ω unbalanced transformation.
Rated for 5 kW CW and 10 kW SSB, these impedance transformers offer the same quality as our well known W1JR baluns.
Teflon SO-239 on either side of the box, also available in Type-N and 7/16DIN or combinations of them.
4-3/4" x 3-3/4" x 2-1/4" inches (120 mm x 95 mm x 58 mm) cast aluminum boxes.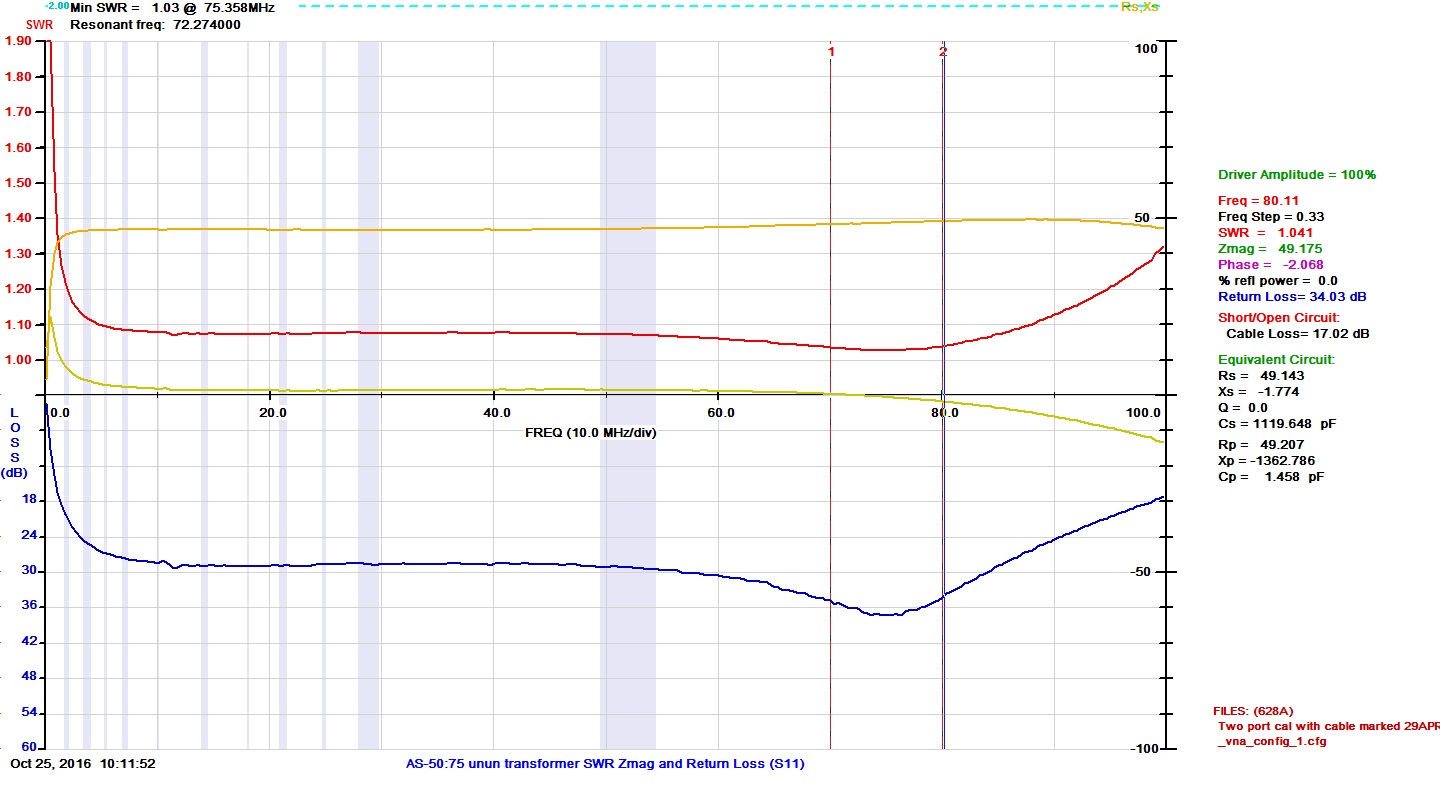 AS-50:75 unun transformer SWR, Impedance Magnitude (Zmag) and Return Loss (S11) plot.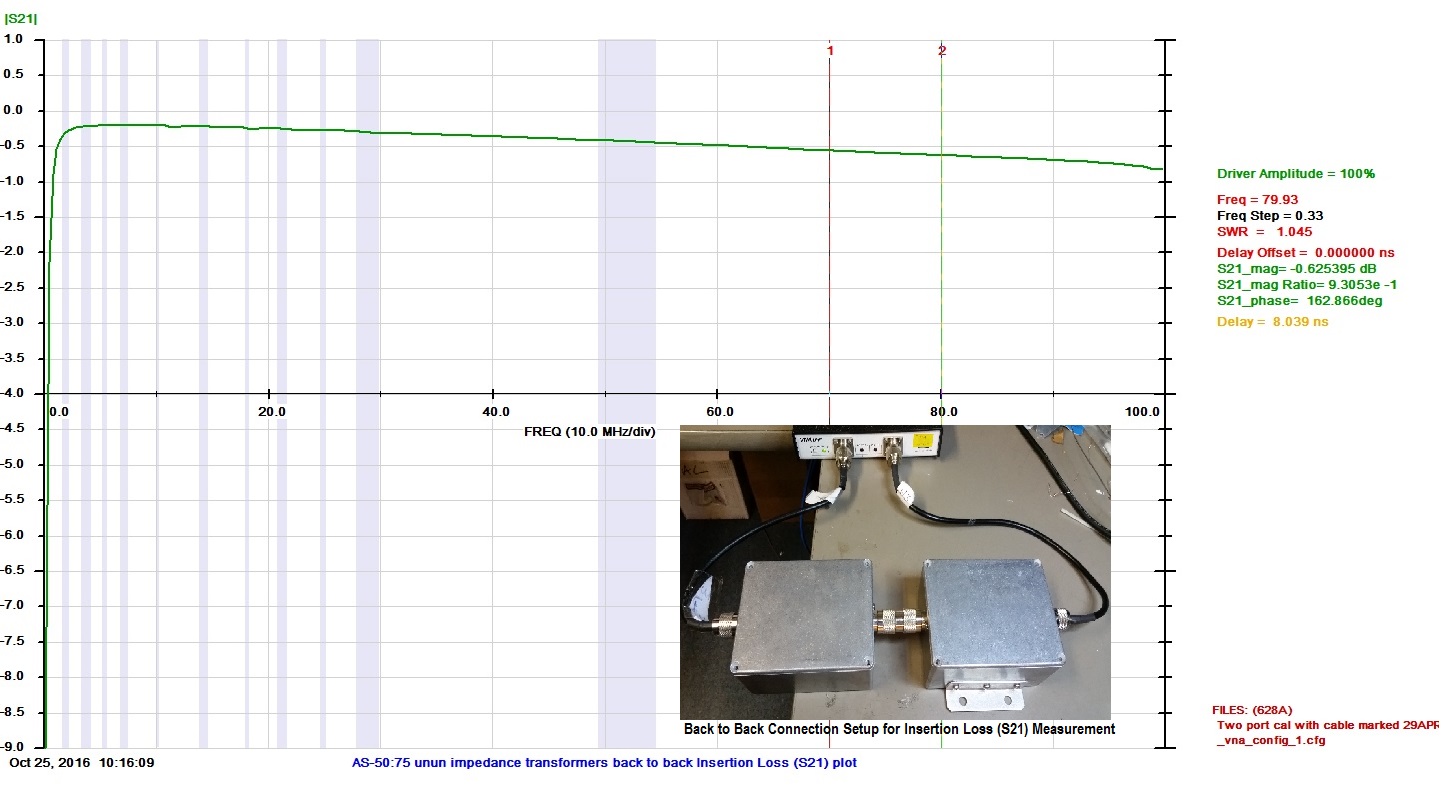 This is the Insertion Loss (S21) of two unun transformers connected back to back at the 75 ohm side. To get the Insertion Loss (S21) of one transformer, divide the dB quantities by 2. Example: At 80 MHz the S21 of one balun is 0.315 dB.

AS-50:75-1SO - UNUN transformer 50 to 75 ohm (1 to 1.5 ratio), 50 ohm coaxial cable to CATV Transformer. 5 kW CW / 10 kW SSB. SO-239 connectors. 1.8 to 60 MHz.
Brand: Array Solutions
Product Code: AS-50:75-1SO
Availability:

Call for Shipping Details
Tags: transmission line transformer, 1.5 to 1 unun, 75 to 50 ohm unun, 75:50 ohm transformer, as-50:75-1, AS-50:75-1, AS-50:75-1SO, as-50:75-1so