SALE - SAVE $200
OM-10C Amplifier combiner, allows you to connect two amplifiers together to add their power into a single output.
CALL US to learn about our special offer packages of two OM Power Amplifiers and the OM-10C combiner for MARS and commercial applications.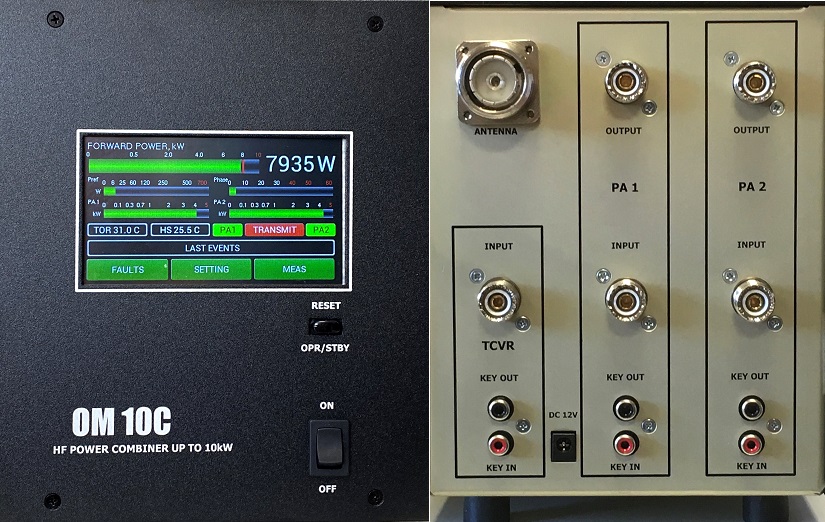 COST INCLUDES SHIPPING TO YOUR DOOR.

Front and rear view of the OM-10C
Specifications of the OM-10C

Frequency coverage:
1.8 – 29.7 MHz continuous

Power rating:
10 kW PEP or continuous carrier into a matched load (VSWR below 1.2:1). Reduces the output at increased VSWR, linearly down to 5 kW with VSWR up to 2:1

Input impedance:
50 Ohm unbalanced, input UHF SO-239 connector.
SWR:
Less than 1.2 to 1 across the bands.
Input VSWR with 50 Ohm loads at the two splitter outputs: less than 1.2 to 1 from 1.8 to 30 MHz.


Output impedance:
50 Ohm unbalanced output, 7/16 DIN connector.

Insertion loss:
I.L. < 0.3 dB

Bar graph indicators:
- Output power in PEP
- Phase difference
- Reflected power in kW

LED indicators:
- ON status
- OPR (operate)
- FAULT (fault indicator)
- PHASE
- Reflected Power
- Temperature

Mechanical parameters:
-Dimensions: WHD 65 mm x 200 mm x 350 mm (2.56" x 7.8" x 13.8")
-Weight: 8.1 kg (17.9 lb)

OM Power SALE OM-10C - Amplifier Combiner
Brand: OM Power
Product Code: OM-10-C
Availability:

2 Weeks
Related Products
Tags: Amplifier Combiner, OM10C, om-10c, om-10-c, om10c, om10-c