SPECIAL CHRISTMAS PRICE $4,400.00
OM Power OM-2500HF - Heavy Duty Legal Limit HF Manual Tune Amplifier.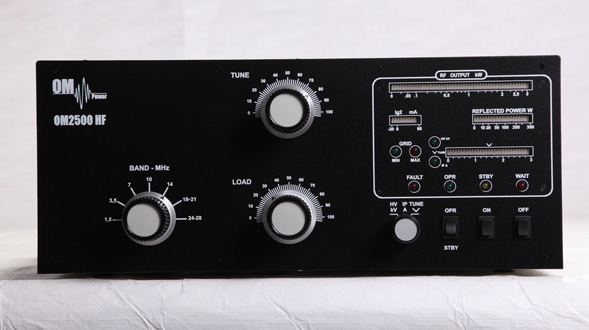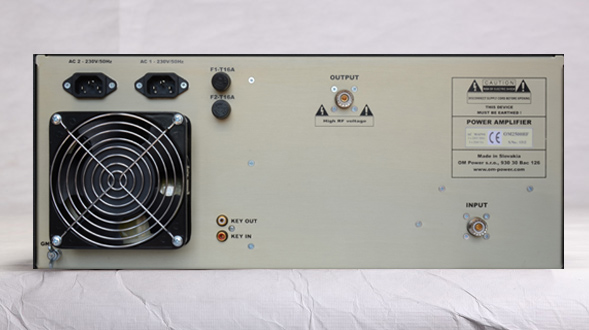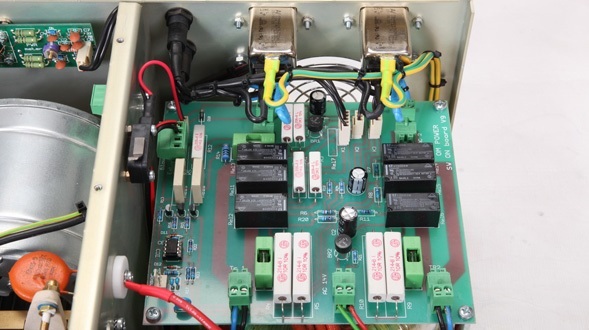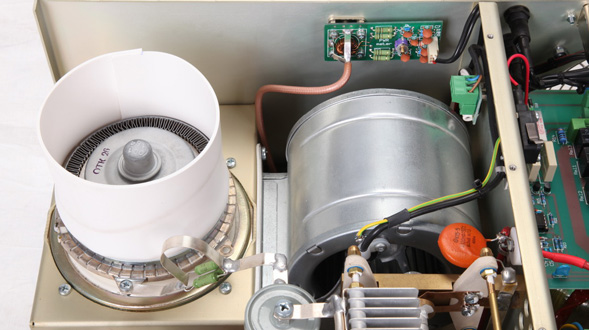 The OM2500HF linear amplifier is designed and ready for ALL short wave amateur bands from 1.8 to 29 MHz (including WARC – bands ) on all modes. It is equipped with the ceramic tetrode FU-728F tube.
The advantages of OM2500HF:
Full compatibility with

- ICOM
- YEASU
- ELECRAFT
- Ten-Tec Orion
- Kenwood
- Icom transceiver protocol using by microHAM devices –CI-V output (MK II, MK2R, MK2R+, etc)
Specifications of the OM-2500HF:
Frequency cove rage:
amateur bands 1.8 – 29.7 MHz including WARC
Power output:
2500 W in SSB and CW
2000 W in RTTY, AM and FM
Driver Power:
60 to 80 W for full Output Power
Input impedance:
50 Ohm VSWR < 1.5 : 1
Output amplification:
17 dB
Output impedance:
50 Ohm unbalanced
Maximum output SWR:
2:1
SWR protection:
automatic switching to STBY , when reflected power is 350W or higher
Intermodulation distortion:
32 dB below nominal output
Suppression of harmonics:
< -50 dBc
Tube:

FU-728F

Ceramic tetrode
Cooler:
Centrifugal blower + axial blower
Power supply:
2 x 230 V - 50 Hz one or two phases
Transformers:
2 pcs of toroidal transformer 2.0 kVA each
Protection circuits:
- SWR too high
- Anode current too high
- Screen current too high
- Grid current too high
- Mistuning of power amplifier
- Soft start for protecting your fuses
- "switch –on blocking " at opened amplifier
Bar graph indications:
- Power output – bargraph 50 LED
- Reflected power – bargraph 20 LED
- Current at screen ( Ig2 – bar graph 10 LED )
- Anode voltage, anode current, tuning – bargraph 30 LED
LED indicators:
- current at control grid ( Ig1 – 2 LED )
- WAIT – preheating of tube (180 sec )
- STBY– standby
- OPR – operating condition
- FAULT – failure, switching off for abt. 4 sec
- Inhibit – operating condition
- ANT 1 - which ANT is use
- ANT 2 – which ANT is use
- UP – DWN - listing in menu
- MAN - manual operating
- AUTO - automatic operating
- TUNE - tuning
- ANT - ANT selection
Parameters:
485 mm (19.1") W x 200 mm (7.9") H x 455mm (17.9") D
Weight:

40 kg (88 lb)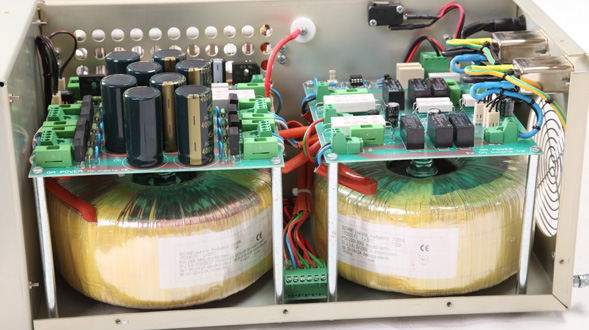 See how to tune an OM-Power 2500, 3500, 4000, click here
More on tuning the OM-Power 2500, 3500, 4000, click here
OM-2500HF User's Manual, click here
PRICE INCLUDES SHIPPING TO YOUR DOOR
OM Power OM-2500HF - Heavy Duty Legal Limit HF Manual Tune Amplifier. SPECIAL CHRISTMAS PRICE $4,400.00
Brand: OM Power
Product Code: OM-2500HF
Availability:

3 Weeks
Related Products
Tags: OM-2500HF, om2500hf, amplifiers, ompower2000+, ompower2000, om-power-2000, power amplifier, hf, amp, om power2000+, om power 2500, OM-Power, Powera, ompower2500hf, ompower2500, om-power2500, om-power, om power, ompower, qsk amplifier, qsk amp, om-2500-hf, om2500, om2500-hf, om2500