4000 W output automatic tuning HF amplifier. 160 m to 10 m. See the Optional Remote Control Unit for ON/OFF, Operate/Stdby, and that can be connected to WLAN for remote operation.
Uses two FU-728F Ceramic Tetrodes.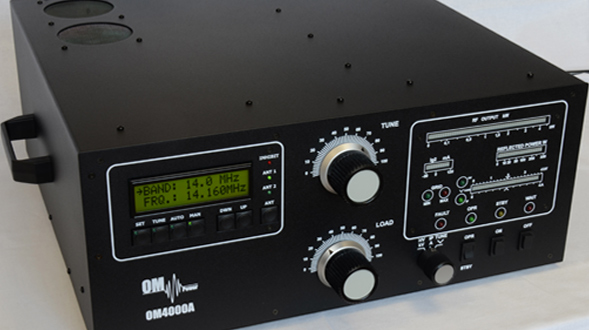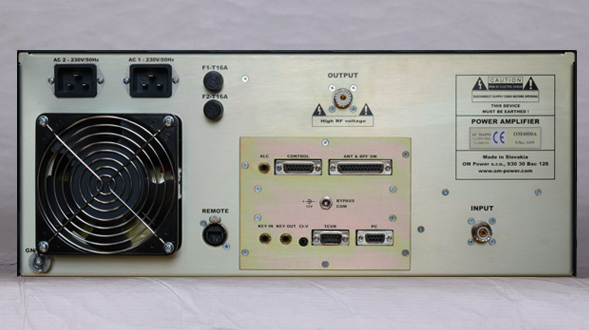 The OM4000A linear amplifier is designed for all shortwave amateur bands from 1.8 to 29 MHz (including WARC – bands ) and all modes. It is equipped with two FU-728F ceramic tetrodes.
The advantages of the OM4000A:
Automatic band switching
Automatic tuning by band segments
Automatic switching of band pass filters
Automatic switching of the antenna selector
The possibility to use 2 different antennas within one band or segment

Full compatibility with

- ICOM
- YAESU
- ELECRAFT
- Ten-Tec Orion
- Kenwood
- Icom transceive protocol using by microHAM devices –CI-V output (MK II, MK2R, MK2R+, etc)
- Flex Radio Series 6xxx
RF sensitive Band and Frequency switching, for use with radios which do not have CAT
Automatic switching between bands
Automatic tuning with the band according to segments
Automatic switching of band pass filter – BAND DATA output compatible with YAESU radios (BCD code)
Automatic switching of the antenna switches - maximum number of antennas is 10, controlled by BCD output code
Remote control via PC Windows Application
Specifications of the OM4000A:
Frequency coverage: Amateur bands 1.8 – 29.7 MHz including
WARC
Power output: 4000 W in SSB/CW on HF bands, 3000W on RTTY, FM
Drive power: 30 to 60 W for full output power
Input impedance: 50 Ohm VSWR < 1,5:1
Output amplification: 17 dB
Output impedance: 50 Ohm unbalanced
Maximum output SWR: 3:1
SWR protection: Automatic switching to STBY when reflected power is 350 W or higher
Intermodulation distortion: better then -32 dBc
Suppression of harmonics: < -50 dBc
Response speed of AUTO tune: less than 0,5s within same BAND , less than 1s if out of BAND
Supported TRXs-CAT : ICOM, ELECRAFT, KENWOOD, TEN-TEC ORION,
YEASU, Icom transceiver protocol using by microHAM
devices – CI-V OUTPUT, Flex Radios and Anan (Apache Labs)
Tube: Two FU-728F ceramic tetrode
Cooling: Centrifugal blower + axial blower
Electrical Requirements: Two 20A circuits with NEMA 6-15/20 receptacle
Power supply: Switchable 220V, 230V, 240V, 60 Hz
Transformers: Two 3.0 kVA toroidal transformers
Protection circuits:
· SWR too high
· Anode current too high
· Screen current too high
· Mistuning of power amplifier
· Temperature to high
· Soft start for fuse protection
· "switch –on blocking "when amplifier is turned on
Features
· support automatic external ANT switching
· Memory for faults and warning, easy maintenance
· Automatic set-up idle current (BIAS) – no need to manually adjust after changing the tube(s)
· Automatic operation of additional fan according to temperature
· T/R System : QSK operation
Mechanical
Dimensions 19 in. x 18 in. x 8 in. (width x depth x height
Weight 120 pounds
OM Power OM-4000A - USED Heavy Duty Legal Limit HF Automatic Amplifier.
Brand: OM Power
Product Code: OM-4000A USED
Availability: In Stock
Related Products
Tags: om4000, om4000hf, om4000a, om4000 a, om4000hf, om-4000a, ompower2500, amplifiers, qsk amp, om power, om power 2500 a, ompower2500hf, ompower2000+, om power2000+, om-power-2000, ompower2000, OM-Power, hf autom, power amplifier, full-qsk amplifier, om-power, om-power2500, ompower, linear amplifier, linear HF amplifier, linear amp, OM4000A, om-4000a, OM-4000A, om-4000a, om4000