3000 W output automatic tuning HF amplifier. Frequency range of 5 MHz to 25 MHz. Operated remotely if connected to LAN.
24/7 operation.
Uses two FU-728F Ceramic Tetrodes.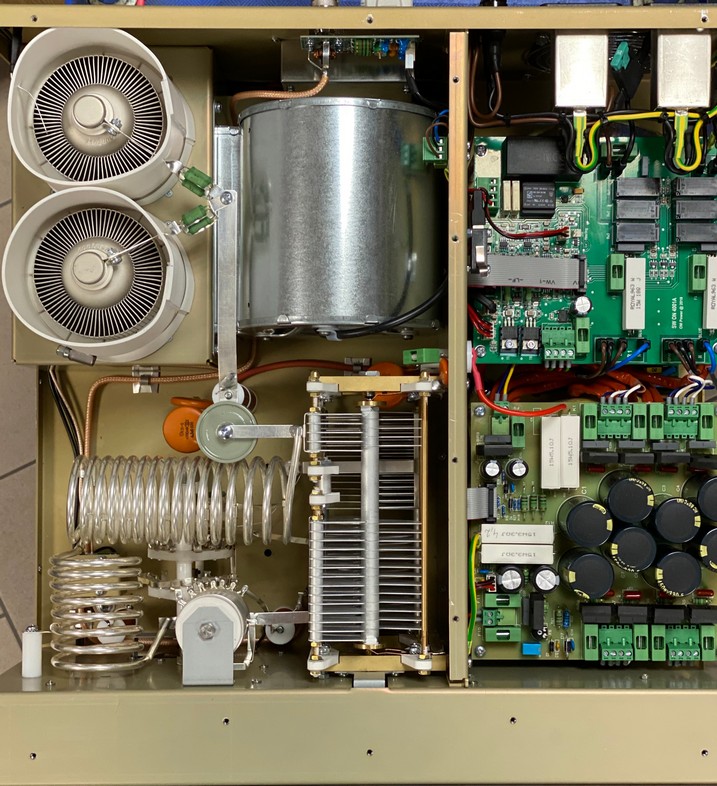 HEAVY DUTY HIGH VOLUME FAN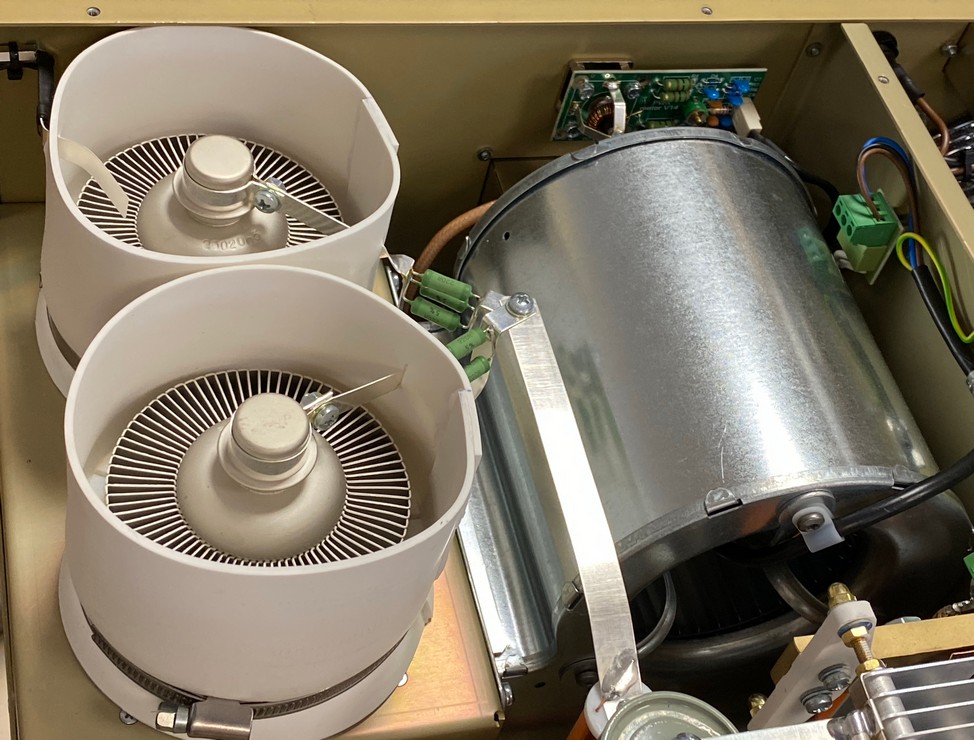 GENERAL DESCRIPTION OF THE OM4001C COMMERCIAL AUTOMATIC AMPLIFIER


The automatic linear amplifier OM4001C is designed for all shortwave amateur bands from 5,0 to 25 MHz all modes.
It is equipped with a two pieces of ceramic tetrodes FU-728F.
Specifications of the OM40001C:


Frequency coverage: bands 5.0 – 25.0 MHz with continuous coverage
Power output: 3000 W in SSB/CW/RTTY and DIGI modes.
100% duty cycle, 3000 W continuous carrier 24 hours/day
Drive power: 30 to 60 W for full output power
Input impedance: 50 Ohm VSWR < 1,5:1
Output amplification: 20 dB
Output impedance: 50 Ohm unbalanced
Maximum output SWR: 3:1
SWR protection: Automatic switching to STBY when reflected power is 350 W or higher
Intermodulation distortion: better then -32 dBc
Suppression of harmonics: < -50 dBc
Response speed of AUTO tune: less than 0,5s within same BAND ,less than 1s if out of BAND
Supported TRXs-CAT : ICOM, ELECRAFT, KENWOOD, TEN-TEC ORION,
YEASU, Flex Radios and Anan ( Apache Labs )
Tube: 2x FU-728F ceramic tetrode
Cooling: Centrifugal blower
Power supply: switchable 220V, 230V, 240V, 50/60 Hz or other primary
Additional voltages…. (for example 200V 50/60Hz for Japan)
Transformers: 2 pc's of toroidal transformers 3.0 kVA
Protection circuits:
• SWR too high
• Anode current too high
• Screen current too high
• Mistuning of power amplifier
• Temperature to high
• Soft start for fuse protection
• "switch –on blocking " at opened amplifier
Indicator:
• 4,3" color touch screen display
Features
• supports automatic external ANT switching
• Memory for faults and warnings, easy maintenance
• Automatic idle current set up (BIAS) – You don't need to manually adjust after
changing the tube
• Automatic switch on of additional fan according to temperature
• T/R System : QSK operation
• REMOTE control - connector for LAN connection – remote control software free of charge
Mechanical parameters: 505 mm x 210 mm x 510 mm (width x height x depth)
Weight: 46,5 kg
Manual
OM4001C MANUAL COMING SOON


OM4001A operation essentially similar. OM4001A MANUAL link




OM Power OM-4001C - Commercial Duty HF Automatic Amplifier.
Brand: OM Power
Product Code: OM-4001C
Availability:

1 Month
Related Products
Tags: OM4001A, commercial, OM4001C, om4000, om4000hf, om4000a, om4000 a, om4000hf, om-4000a, ompower2500, amplifiers, qsk amp, om power, om power 2500 a, ompower2500hf, ompower2000+, om power2000+, om-power-2000, ompower2000, OM-Power, hf autom, power amplifier, full-qsk amplifier, om-power, om-power2500, ompower, linear amplifier, linear HF amplifier, linear amp, OM4000A, om-4000a, OM-4000A, om-4000a, om4000