Dual Push Button Controller to share up to eight antenna ports between two radios.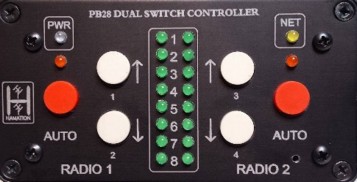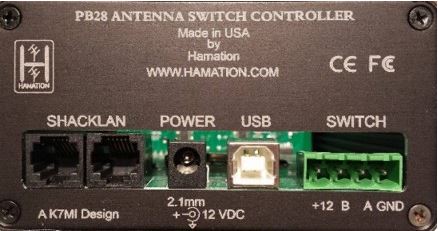 Front and Rear Views of the PB-28 controller.
The PB-28 is a dual radio antenna switch controller that offers the simplicity of pushbutton operation. Each half of the PB-28 may be independently configured as radio 1 to 4. For larger stations, this controller may be configured to control one of up to four switches. In Auto mode the PB-28 will indicate the antenna selected by one of the Bandmaster series band decoders. The PB-28 has a USB connection that allows for full control from software and also gives full access to all devices on the ShackLAN network. Also available is the PB-28S slave controller for use in remote applications. The slave controller directly controls the master PB-28 at the station location and functions identically. Ideal for those who wish to remotely control their station without software.
The PB-28 Controller may be connected to other ShackLAN devices such as band decoders, StackMatch controllers, etc. Connection to other devices may be made using the RJ-12 (modular) jacks using 6-wire modular cables. For older devices, you may connect to them using the green switch connector by connecting the other devices in parallel with the switch connections.
Each half of the PB-28 operates independently and each half may be assigned its own radio number. For stations using 2x8 switches (2 radios) the factory default of radios 1 and 2 should be sufficient. Assigning the radio numbers is done using the front panel push button switches. Set the radio numbers by pressing and holding the left AUTO button along with the buttons for the desired radio numbers for at least two seconds. These buttons are labeled 1 thru 4. When the buttons are released the PB-28 will flash the configuration on the green antenna LEDs. When selecting two radio numbers the lower number is the left side (Radio 1) and the higher number is the right side (Radio 2). For multiple radio setups where two controllers are in use, each controller may be configured to control only one radio in the antenna switch. This is done by pressing the left AUTO button and the button for the desired radio number for at least two seconds. This radio will be controlled by the left side (Radio 1) and the right side (Radio 2) will be unused.
To download the PB-28 manual, click here
To see more on Hamation Products, click here
PB-28 - Dual Radio Push Button Controller
Brand: Hamation
Product Code: PB-28
Availability: In Stock
Related Products
Tags: eightpak controller, dual push button controller, eightpak controller, 4x8Pak controller, PB28, PB-28, pb-28, pb28,