Please specify your rotator make and model if you want to and we can set the pigtail connector wiring, internal jumpers and partially configure the controller for you.
The RA-S1 is a digital controller for azimuthal rotators. Its main features are:
Voltage output regulated with PWM (Pulse Width Modulation)
Soft-start and Soft-stop With the PWM speed control, the controller softly ramps up and ramps down the rotator's speed on every operation mode.
On-hand speed controls The potentiometer's SPEED to make it easy to adjust the rotation speed.
Point and Shoot Choose an azimuth with the POS potentiometer, press GO and let the controller softly guide the rotator to the chosen bearing.
Offset definition Quickly corrects the azimuth your antenna is pointing at, without the need of a new calibration.
Software defined limits With them your stacked antennas won't hit the tower. It is very intuitive to configure.
Serial RS-232 communications with DB-9 or USB The RA-S1 controller uses the Yaesu protocol GS232A, making it easy to use with every existing program.
Firmware Upgradeable It is possible to upgrade the firmware of the controller easily with the USB port. Your controller will never be out of date.
Full compatibility with most rotators The RA-S1 was developed to work with most of the available rotators in the market, being able to control AC rotators (24 or 36 V AC) and DC (12, 24 or 36 V DC)*, that have positioning feedback by pulses or internal potentiometer. The rotators commonly used (Yaesu G-800, G-1000, G-2800, HyGain HAM-IV, T-2, Pro.Sis.Tel PST-71D, PST-61D, PST-2051, PST-641, M2 Orion 2800) can be used with these systems.
Unit dimensions are 8" x 8" x 4" H
AS-RA-S1 User's manual, click here to download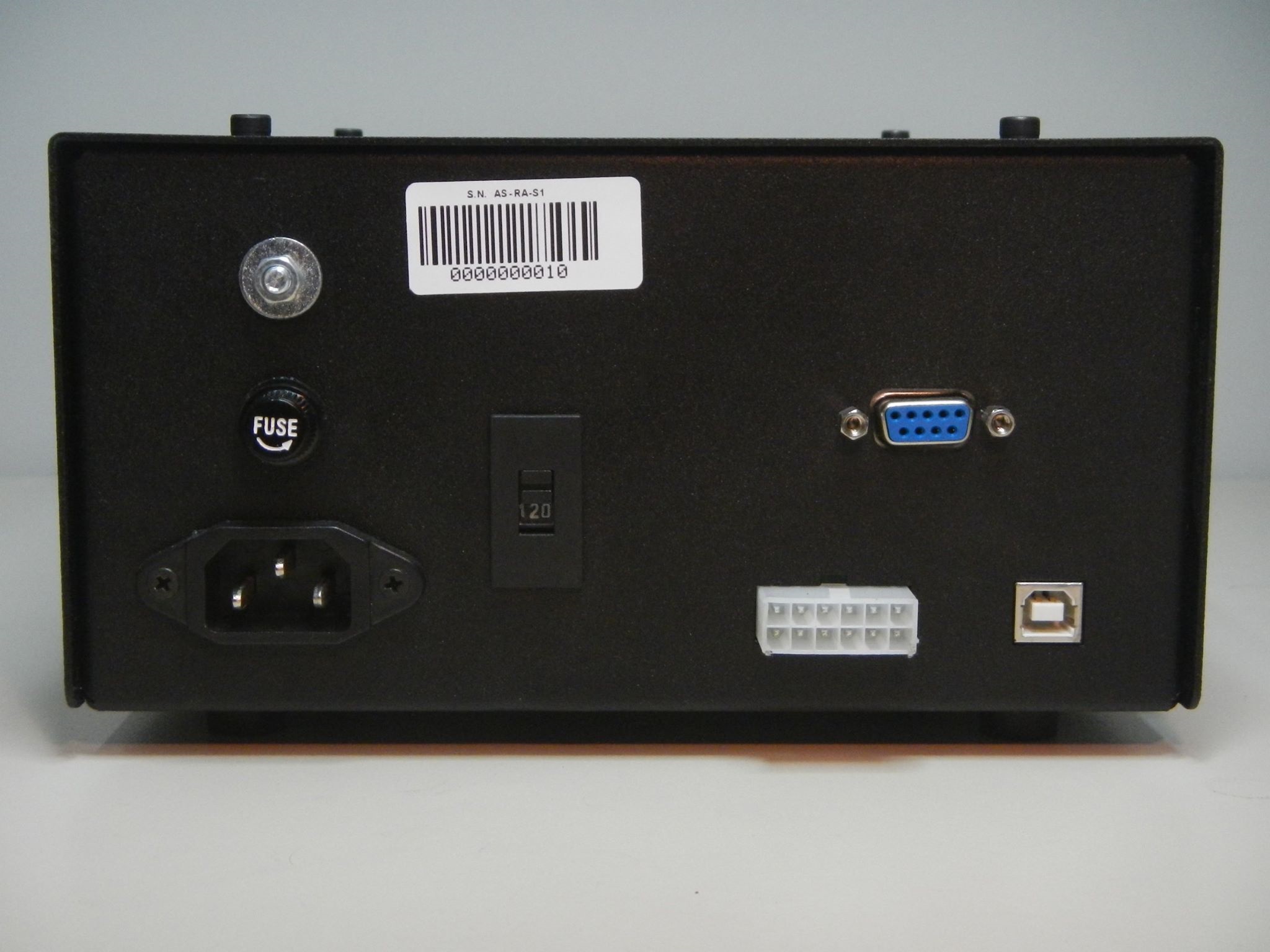 Rear panel view of the AS-RA-S1 rotator controller. A cable pigtail with the 12-pin male connector is provided with the unit.
Watch a video of the controller working with a PST61 Prosistel Rotator, click here
Watch a video of an example of configuration with a Yaesu G-450 rotator, click here
AS-RA-S1 - Digital Rotator Controller
Related Products
Tags: ra-s1, rt-21d, rt21d, as-ra-s1, rt-21, orion, rotators, PST, Prosistel, rt21, controler, Pro.Sis.Tel, controller, orion2800px, rotator controller, rotator, orion2800, rotors, rotores, AS-RA-S1, controller, CONTROLLER