AC line filter with 6 ft line cord with IEC receptacle and IEC plug rated at 250 V AC 50/60 Hz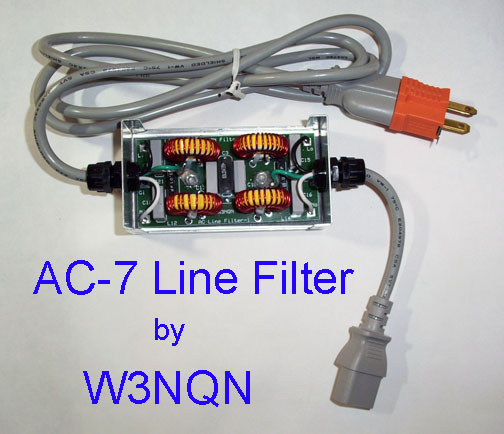 The NQN 7-amp AC line filter was developed for high-level RF interference environments, where computer and monitor power-line noise causes a problem with sensitive receivers, as well as with critical listening and recording environments such as high-end audio studios, home theaters, and audiophile stereo systems.
The NQN AC line filter is especially effective in eliminating the high-level AC line noise generated by the six or more computer/monitor systems used by amateur radio operators during multi-multi contesting. Also noise sources such as wall-wart generated RFI is a serious station problem. To address this issue the AC-7 can be supplied with an optional IEC-to-NEMA adapter so wall-warts and other equipment may be plugged into it. See Price list to purchase this option.
The NQN AC line filter features the following:
Line cord radiation is minimized by using a three-wire power line cord having a foil shield and a drain wire.
Nine (9) capacitors are used and are all AC-rated Class Y2 or Class X2.
Four 52 uH Powdered iron toroidal cores (two per line) provide optimum power-line differential-mode filtering and are rated for a maximum line current of 7 amperes.
The foil shields and third-wire ground are maintained via the filter's aluminum case from the IEC female receptacle to the NEMA three-prong male AC plug.
The 115-VAC leakage current measured through a 1,500 ohm resistor from the filter case to ground is less than 1.4 milli-ampere.
The voltage drop between the filter input and output at a load current of seven amperes is about 1 volt which is less than a 1% drop in the 115-VAC input line voltage.
A three-prong female-to-two-prong-male adapter "cheater" is included (with the AC-7 model only) if you need to break the shield ground at your 115 VAC power receptacle to eliminate a ground loop via the shield.
The cover is secured to the aluminum case with four 6-32 machine screws into four 6-32 threaded holes in the cover that are provided by the manufacturer.
AC-7EU - AC line filter with 6 ft cord with IEC receptacle and IEC plug rated at 250 V AC - 50/60 Hz
Related Products
Tags: ac line filter, ac-line filter, rfi filter, ac filter, ac-line, AC-7, ac line filters, AC7, AC-7EU, AC-7A, AC7B, AC-7B, AC7A, AC7EU, ac-7-set of 4, ac7, ac-7