OM-SW 2/10 - Ten antenna / Two radio ports remote switch for HF and 6 m (1.7 to 54 MHz) 5 kW rating (SWR < 1.2 to 1).
The switch can be controlled by feeding 12 - 15 V DC to the relays. (The other model, OM-SW1/10+ can read BCD band data)
High isolation: Better tan 80 dB @ 1.8 MHz and 28 MHz, better than 65 dB @ 14 MHz, better than 80 dB @ 28 MHz
Insertion loss < 0.05 dB
PRICE INCLUDES SHIPPING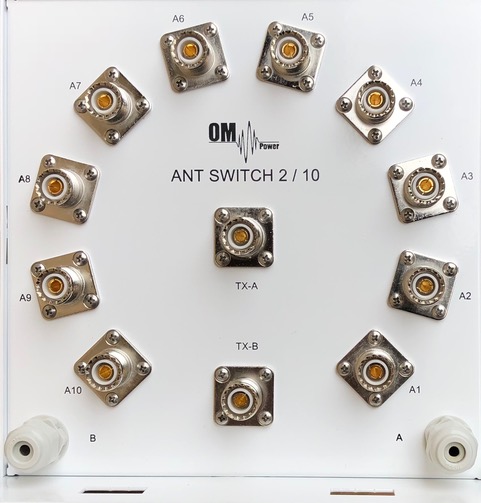 OPTIONAL MANUAL SWITCH AVAILABLE

Features
 Selecting one of maximum of 10 antennas
 Characteristic impedance is 50 ohm , frequency range up to 60 MHz
 Power rating - up to 5kw continuous carrier
 Teflon (PTFE) insulated SO239 connector
 Excellent VSWR and crosstalk isolation
 Only 20 ms switching time between ports
 Compatible with OM Power automatic amplifiers, without need of any additional devices.
 Compatible with any band decoder with 12V source voltage
Compatible with Yaesu BCD code ( 5V logic)
 Unused antenna can be grounded as needed , opened, or loaded with characteristic impedance
 Dust and rain protected
 Easily mounted on the wall or tower
 The antenna switch is intended to be used either inside or outside
N connectors available for $40.00 Specify in Comments Section of Shopping Cart.
Optional Control Cables made by OM Power are available. Indicate your needs in the comments section, and we will provide a quote.
Specifications


Compatible with Yaesu BCD code ( 5V logic)
 Unused antenna can be grounded as needed , opened, or loaded with characteristic impedance
 Dust and rain protected
 Easily mounted on the wall or tower
 The antenna switch is intended to be used either inside or outside


| | |
| --- | --- |
| Frequency Range | 1.7 - 54 MHz |
| Impedance | 50 ohm |
| Connectors | SO-239 or "UHF" female (N-type connectors on request). |
| SWR (worst case) | SWR = 1.00 @ 1.8 MHz; SWR < 1.02 @ 14 MHz; SWR < 1.04 @ 28 MHz; SWR < 1.12 @ 50 MHz |
| Number of ports / Selection of ports | Two radio ports and 10 antenna ports / 12 - 15 V DC @ 100 mA voltage |
| Insertion Loss | < 0.01 dB @ 1.8 MHz; < 0.02 dB @ 14 MHz; < 0.03 dB @ 28 MHz; < 0.05 dB @ 50 MHz; |
| Isolation | Better than 80 dB @ 1.8 Better than 65 dB @ 14 Mhz. Better than 54 dB @ 50 - 54 MHz. |
| Power Rating 1.7 - 30 MHz | 5 kW (SWR<1.2); 4 kW (SWR < 1.5); 3 kW (SWR < 2.0); 2 kW (SWR <3.0) (SWR < 2.0); 2 kW (SWR <3.1) |
| Power Rating 50 - 54 MHz | 3 kW (SWR<1.2); 2.5 kW (SWR < 1.5); 2 kW (SWR < 2.0); 1.5 kW (SWR <3.0) |
| Dimensions (W x H x D) / Weight | 210 mm x 210 mm x 120 mm (8.27" x 8.27" x 4.7") / 1.56 kg (3.44 lb) |


OM Power OM-SW 2/10 - Two Radio Ports and Ten Antenna Ports Remote Switch
Brand: OM Power
Product Code: OM-SW-2x10
Availability:

1 Week
Related Products
Tags: antenna switch, remote antenna switch, antenna selector, conmutador de antenas, selector de antenas, antennaswitch, two radios