AS-16SP: Surge arrestor for 16 control wires. Needs grounding.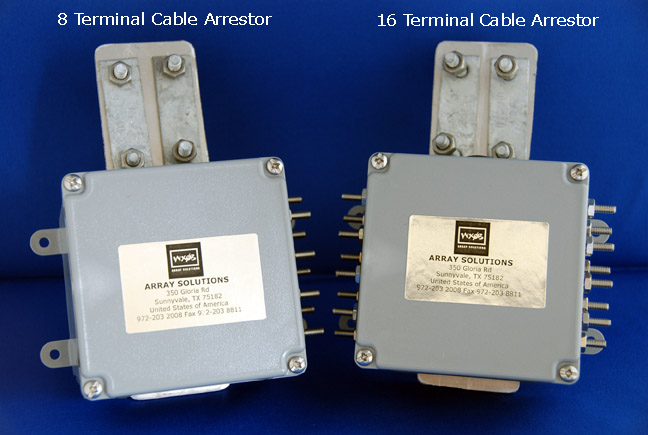 Eight and Sixteen terminal 65V Surge suppressors for control lines and rotators. Ground connection is needed.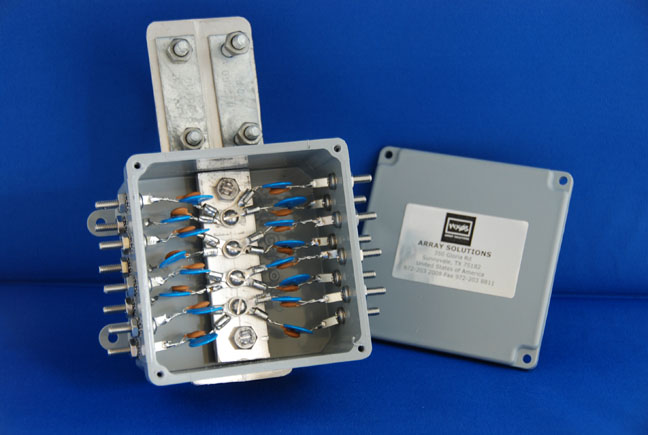 Interior of Sixteen terminals version shown here.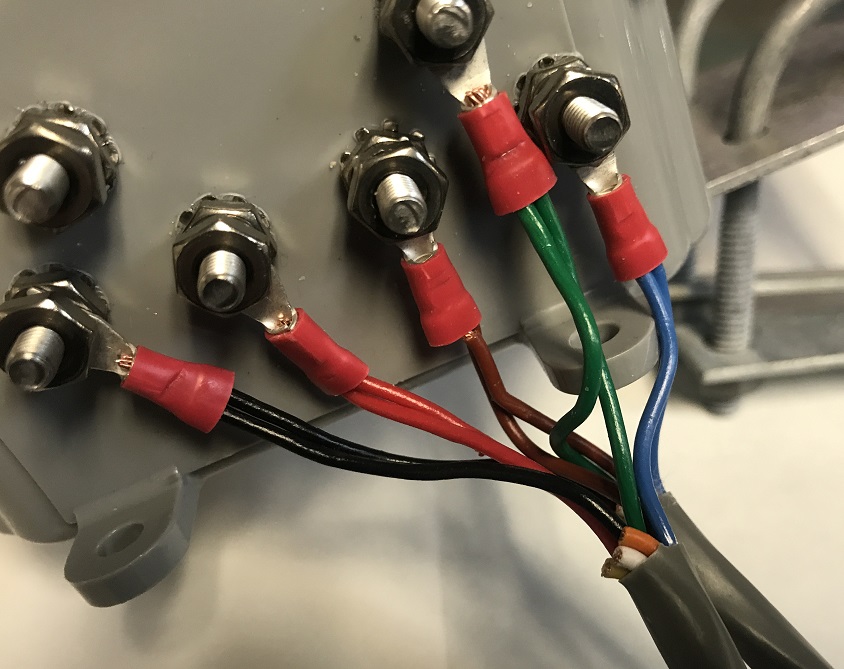 Typical control cable wiring.
These new arrestors solve the application problem of installation on tower legs or on an entry plate.
Easy to install. Unlike the competition, no fabrication is required on your part. Bolt it on the tower leg, make the connections to your control cables and go!
Three choices of Suppressors are available depending on your requirements. Eight Wire Suppressors to support typical Amateur Rotator installations. Eight (AS-8SP) or Twelve (AS-12SP) Wire Suppressors when less connections are required.
Outside terminals are all Stainless steel. No zinc screw terminals to rust!
Mounting bracket mounts with two galvanized U-bolts so it will not twist on a tower leg, and makes a very high current attachment point.
Box will bolt directly to most commercially made towers. Box can be directly attached to an existing cable entrance bulkhead or grounding plate by simply removing the tower mounting leg bracket and use the two exposed ¼" x 20 bolts
The box is a certified NEMA 4X ( harsh chemical environmental certified box) - will not corrode and has a rubber seal.
Bus bar inside is solid aluminium and will not corrode, will handle huge currents and is solidly bolted to outside solid aliminium bracket
Components are easily replaced by customer if necessary.
All components are secured with mechanical and soldered connections to handle large currents.
Each terminal uses componetry selected to handle 6,500 amps of surge current -and will fire at 65 Volts.
Each lead is RF Bypassed to eliminate RF Interference on your control lines which results in more stable operation of your control boxes.
See replacement MOV and capacitor assembly for the AS-8SP, AS-12SP and AS-16SP, click here
See all arrestors and related items available, click here
Download the pdf manual for the AS-8SP, AS-12SP and AS-16SP arrestors
AS-16SP - Sixteen terminal 65V Surge suppressor for control lines and rotators
Related Products
Tags: control line supressor, as12-sp, as-12-sp, as12sp, twin-line supressor, as-12sp, contrl wire arrestor, twin-line arrestor, twin line arrestor, owl lightning arrestor, twin line, open wire line arrestor, arrester, surge arrestor, lightning arrestor, surge supressor