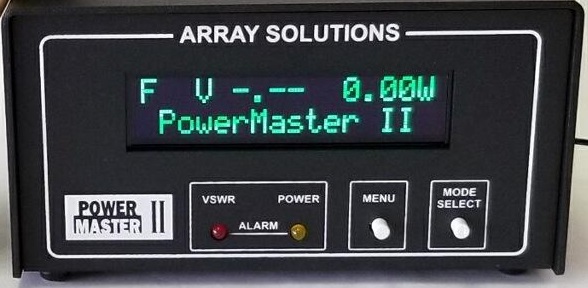 With 3kW and 10 kW HF / 6 m, VHF and UHF couplers, includes USB cable.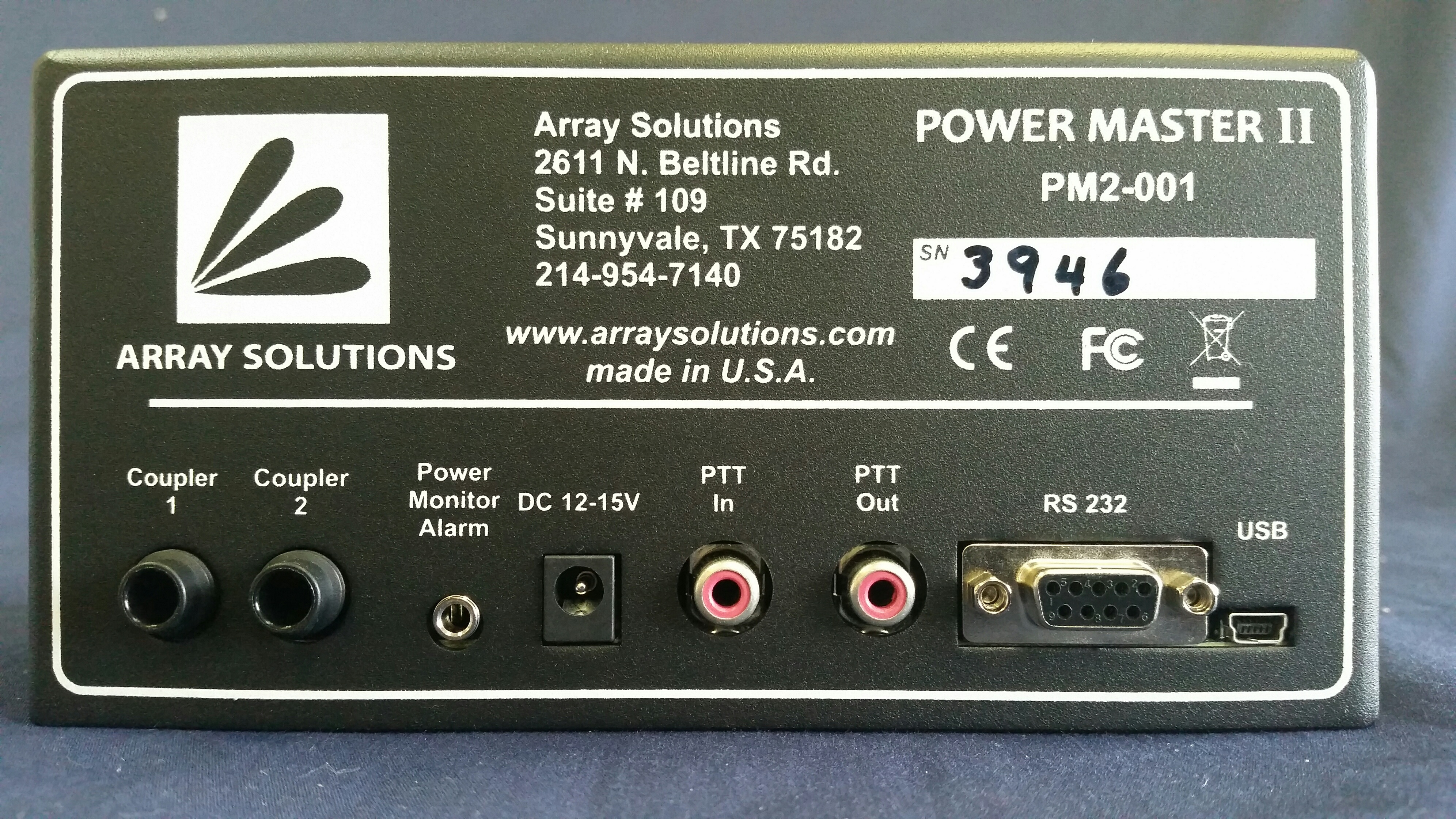 Front and Rear views of the PowerMaster II Display
Some of the many features
ALC-1 - ALC protection option, shuts down your transmitter fast but yet allows ALC normal operation
FASTEST Bar graph on the Market, makes tuning an amp or a tuner a joy, faster than an analog meter. So fast it can catch the first "dit" at 99 WPM and even show you if your rig has a RF spike problem. Why mess around with other meters that have have had display failures?
Displays VSWR, Power, and Bar graph at the same time.
Support for BLIND Hams via www.hampod.com
Runs with or without a PC connected to it. That means there are no programming hassles and issues setting this meter up.
Runs right out of the box.
Accuracy typically better than +/- 3% over frequency and temperature ranges
Commercial couplers available for VHF and UHF commercial bands
Peak Hold Modes – programmable for fast(1/2 sec), medium, slow, and Long ( 5 sec) for CW, SSB, data, FM, whatever you're sending!
Two Models – 3 kW and 10 kW - standard coverage is 160 m through 6 m (1.8 to 54 MHz)
Separate Display and Coupler/Sensor boxes– Sensor can be remotely located at your amp or in your mobile unit this also keeps the high power cables away from your radios, audio equipment, PCs etc. No nasty RF cables on top of your desk or radio to cause RFI and other clutter issues! The coupler is using DC only, no RF is sent to the meter. A good thing!
Remote use, even 100 feet of cable between sensor and display has no drop in power measurement.
Multiple couplers on one display - the PM II supports two couplers without any external adapters.
VSWR Alarm – programmable trip point, LED and Relay – Can shut down your amp fast
Power Alarm - programmable trip point, LED and Relay - Alerts you that your amp has tripped out
Alarms can maintain until manually reset, or you can program an auto alarm reset
Bar Graph – Operates in two modes, Auto Ranging Power and VSWR you can peak your amp sending dots or talking into a mic, or dip your VSWR with your tuner using dots. Easy on the tubes and efficient.
Bar Graph in Power mode – Auto Ranging in user selectable ranges – Easy to read
Large LCD Display – Easy to read even in bright sunlight - low energy consumtion
Programmable from front panel or via USB or RS232 – Even display your call letters in it too!
Free Application for your PC - Will allow remote user's full use of meter even on the internet
All Metal Boxes – Rack Mount Options available, 1 or 2 units in a 19" 2U panel
Choice of connectors, SO239, Type-N, and 7/16 DIN
Display Head Size 7" X 3-3/4" Face, 4-1/2" Deep
Interface to any RS232 Port or USB port
Set up any of the functions of the meter which include:
Call letters or other alpha numeric message – 16 characters long (examples above have "Array Solutions"
Set up default VSWR alarm trigger or turn it off
Set up default Power alarm trigger or turn it off
Mode of operation
Fast, med, slow
Bar graph
Auto range scale
Peak, Peak plus reverse
Bar graph mode VSWR or Power
Forward power
Reverse power
VSWR
Data in alpha numeric / bar graph – Both on screen
Peak hold as well as real time power in bar graph
VSWR Alarm
Power Alarm
Hooks to allow access to the data from another application like a contest logging program
PowerMaster general information page, click here for information and software and firmware downloads.
PowerMaster II - Display only (no coupler) - will work with 3 kW HF-6m, 10 kW HF-6m, VHF, and UHF couplers. includes USB cable, 12 V DC cable
Related Products
Tags: Power Master, PM2, PM, PowerMaster, Power Master II, wattmeter, power meter, watt meter, output meter, vatimetro, power coupler, power detector, pm2, pm-2, PM-2, POWERMASTER, powermaster, power master, Powermaster, PowerMaster