AS-309H - Open Wire Line Arrestor - Twin Line Surge Supressor. Needs ground connection.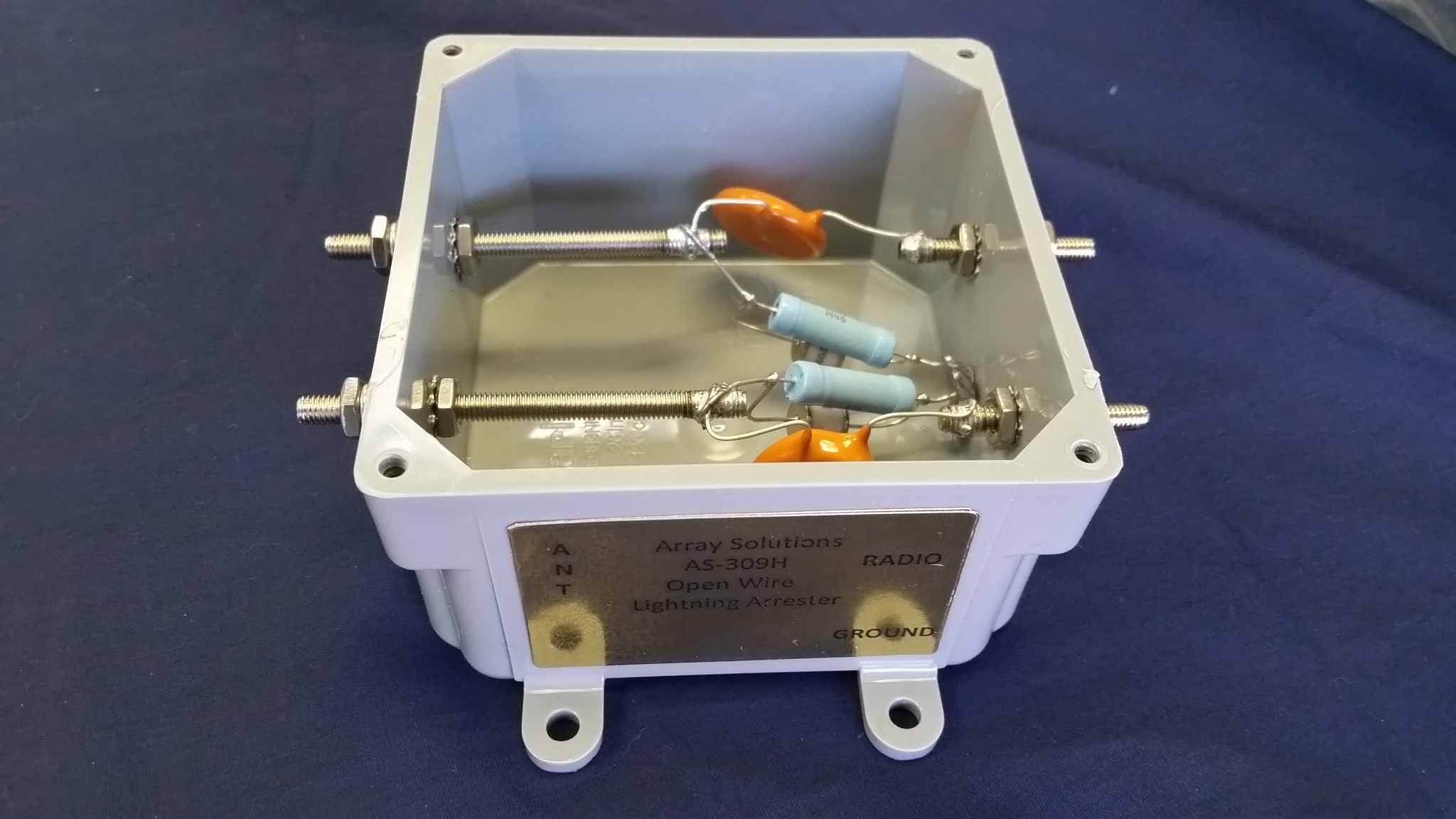 These devices are used for protection of Radio Equipment attached to antennas. They will protect from sand, rain, snow static buildup on antennas and feed lines which can damage sensitive radio equipment. They also will protect against damage from nearby and overhead lightning strikes. And can mitigate damage to radios or large damage to other equipment from occurring inside buildings, enclosures, and homes.
Based on the design by Industrial Communications Engineers (ICE) 309H coaxial arrestors, these arrestors have been improved in performance, packaging, and hardware. These arrestors are DC blocked and include static and DC discharge capability just like the famous ICE arrestors. They also include rated Gas Discharge Tubes (GDT) which can be replaced (NOTE: Recommended GDT voltage rating: 2700 V) with simple tools. Due to the static bleed components inside the arrestors not only does it help to keep the tube from firing extending the life of the GDT, but by virtue of bleeding off static that is charging the coaxial cable it eliminates cable discharge noise from the sensitive receiver which can lower the noise level heard.
The AS-309H is designed for use with open single wire, or open twin wire transmission lines. They can handle Zo line impedances from 300 to 600+ ohms. The are meant to be mounted at ground level near the lightning grounding system.
Features:
Easy Installation, due to the flange with holes to allow screwing it to a plate

4 kW CW / 8 kW PEP

Weather and water tight heavy duty enclosures using Stainless steel hardware

Safety rated and tested GDT

Includes SS washers and nuts to attach your ladderline

Includes grounding lug to easily attach to your ground system

Suited to prevent to prevent galvanic corrosion

Components are easily replaced
Specifications:
Dimensions: 4" x 4" x 2" (50.8 mm x 50.8 mm x 38.1 mm), NEMA 4X PVC box with mounting tabs

Weight: 1.5 lb (0.7kg)

Frequency range:1.5 to 60 MHz

Ladder line or open line impedances: 100 to 800 ohms

Insertion loss (S21):

0.02 dB

or less

Power Ratings 4 kW Continuous 8 kW PEP (can be dependant on line length)

GDT Devices certified to UL497B and UL1449
NOTE: The recommended GDT Tube is 2700V
Click Here
Halogen free

Devices tested per ITU K.12 recommendations

Non radioactive materials

100's of operations under 5kA

10 operations 8/20 μs 5 kA minimum

1 operation 8/20 μs 10 kA minimum

Maximum follow current during one voltage half cycle at 50 Hz 200 A

Insulation resistance at 100 V DC > 10 GΩ

Capacitance at 50 MHz < 1 pF

Operation and storage temperature: -40

°C

to +90 °C ( -40

°F

to +194 °F)

Climatic category (IEC 60068-1) 40/ 90/ 21
AS-309H Manual, click here to download
To see more information on Array Solutions Arrestors and HOFI Arrestors, click here
Actual testimonial
Hi Jay,
Happy Holidays and hope you and your family are well during crazy pandemic. I know you sell a lot of very high end stuff but I wanted to give you a testimonial about this product which I have amazing proof saved my shack equipment from harm during a storm last summer.
I had a multi-band dipole (130') up around 80' in wide open space. We live on a hilltop next to farm and the top terrain is open space. The dipole was fed by 450 ohm ladder line down to a 4x4 wood post in the ground. I had to line attached to the AS-309H mounted mid-post which was grounded to three 8 foot ground rods space about 8 ' apart (all bonded together and to my electric service panel). We had one of our more frequent summer lightning storms and heard a huge bang, our lights flickered. My neigbor saw it happen and one of the main leaders hit my dipole and vaporized the ladder line right down to the AS-309H – the wood post and plastic straps were charred black where the ladder line had been. The ladder line coming out of the AS-309H to the radio end was unscathed. Long story coming to an end… I only removed the AS-309H a few days ago as I finally decided to replace the 4x4 post. Please see attached pictures which tell the whole story. The cost of the AS-309H is a tiny price to pay to get the kind of protection it provides. Thanks for making a great product. Fortunately I bought 2 of these over the years and the spare is now in operation with a new dipole.
Have a wonderful Holiday and HNY. I hope 2021 keeps you and yours healthy and safe.
73 Jerry NY2KW (ex-K1JOS)
gg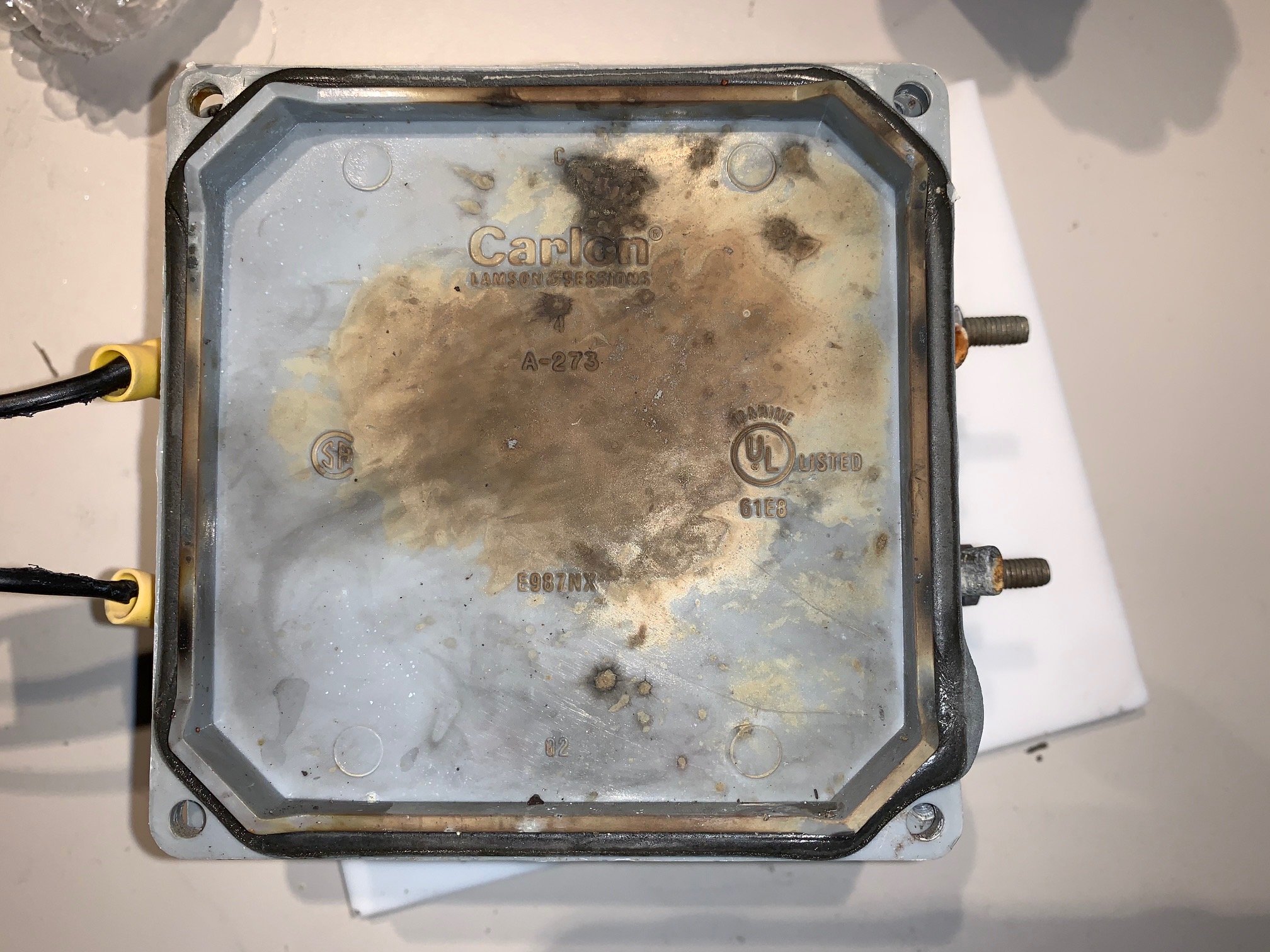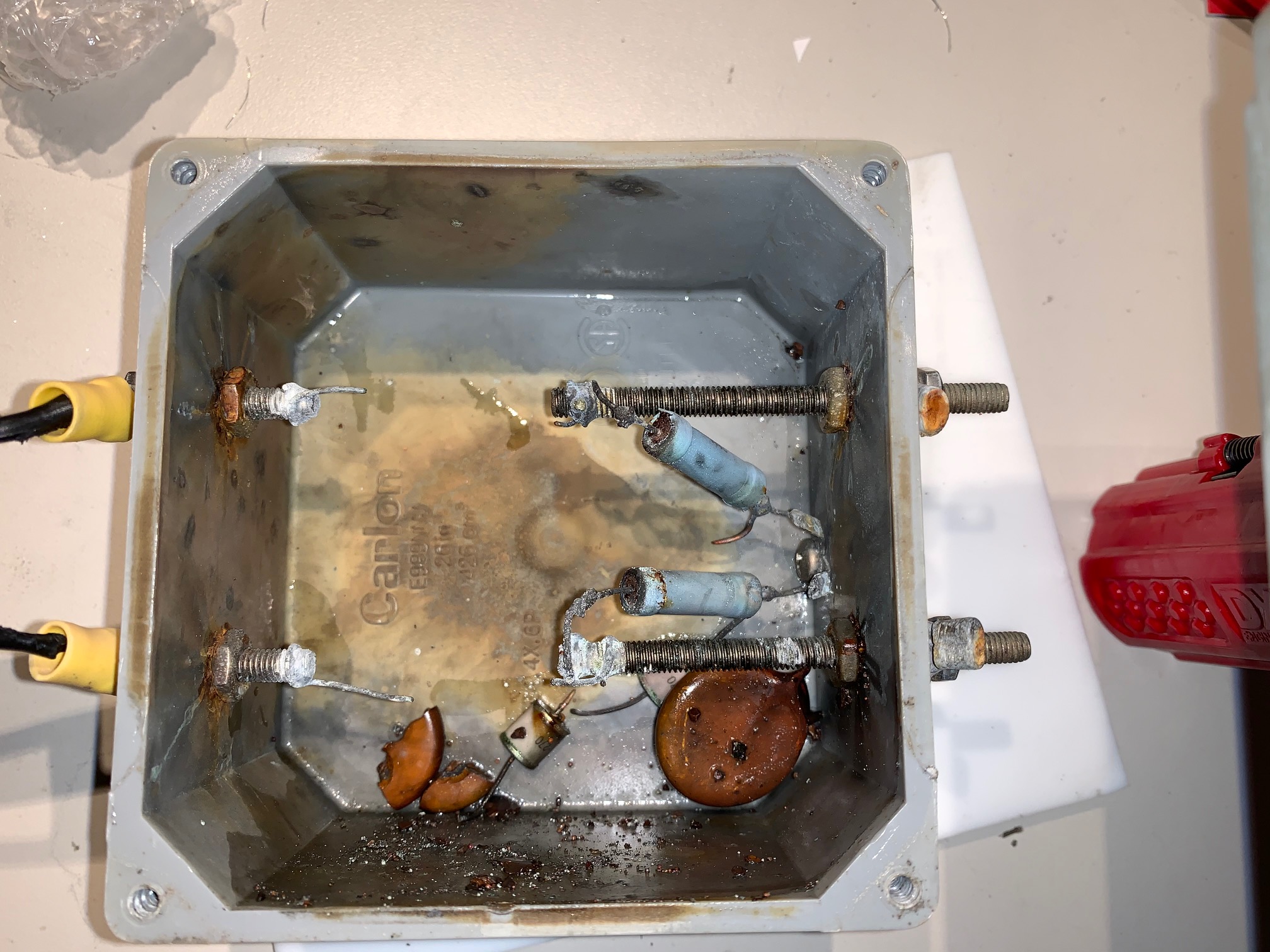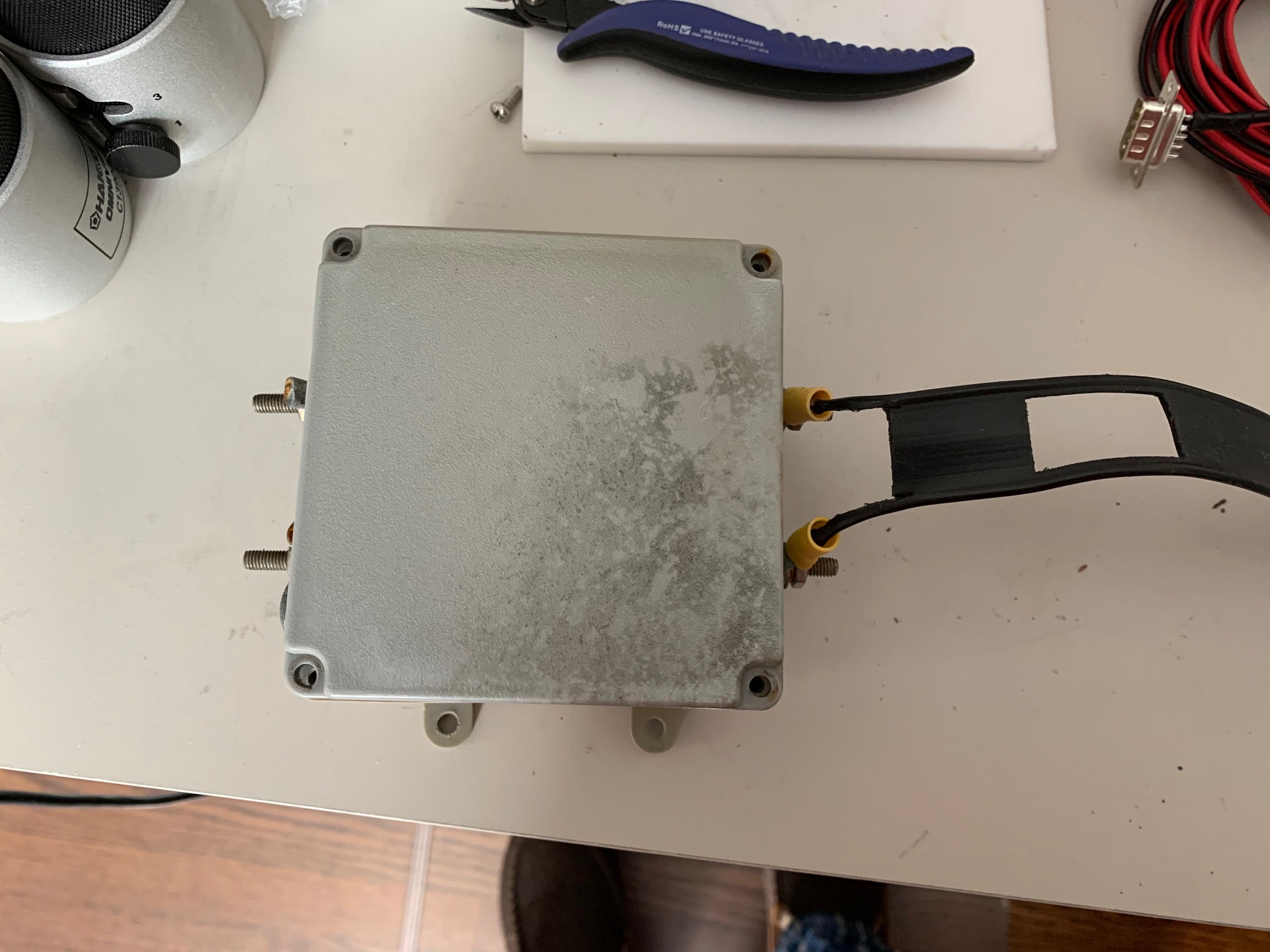 AS-309H - Twin Wire Line (Ladder line, Open Line) - Surge Supressor
Related Products
Tags: arrestors, lightning arrestor, arrestor, surge supressonr, open wire line arrestor, twin line, surge arrestor, twin line arrestor, owl lightning arrestor, as309h, as-309-h, as-309h, twin-line supressor, twin-line arrestor, as309, as309-h, as-309, AS-309H